Many centers that started operating in December in Anatolia, which offers rich opportunities in terms of skiing and winter tourism, have recently closed the season due to global warming and decreasing snow levels.
Palandöken in Eastern Anatolia, Erciyes in Central Anatolia, Davraz in the Mediterranean and Atabarı in the Eastern Black Sea region, on the other hand, welcome local and foreign ski and snowboard enthusiasts in April as their slopes are suitable for winter sports.
In these regions, where the season is expected to last until the end of the month, activity increased during the school holiday period. Ski enthusiasts like to ski in sunny and warm weather.

Palandöken
Palandöken Ski Center, which welcomes many local and foreign tourists to Erzurum every year, has 56 slopes with a length of between 1.1 and 14 kilometers and a degree of difficulty.
20 kilometers from the airport and 4 kilometers from the city center, the ski resort offers easy access to its visitors, as well as the practice of snowboarding, skiing and sledding, as well as activities full of adrenaline. such as ice wall, snowpark, giant swing, zip line, paragliding, human slingshot, night skiing and rafting on tires.
In the ski resort, where the snow depth is measured at 136 centimeters even in the second week of April due to heavy rainfall, tourists are guaranteed to ski all season thanks to snow spraying systems.
In the city, where about 4,100 people can stay in 20 hotels, most of which are located in Palandöken, tourists are also accommodated in the bungalows of the ski center.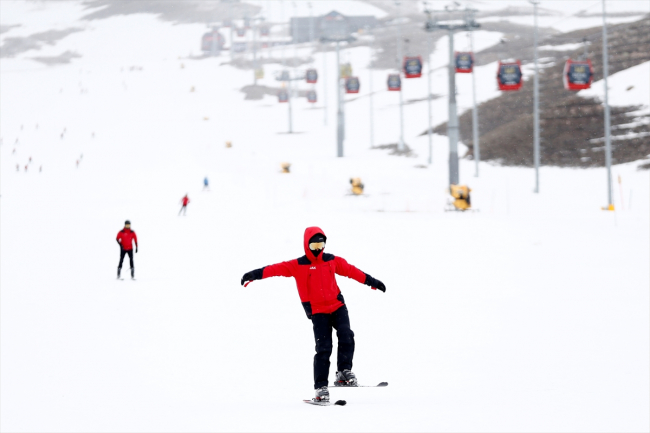 [Fotoğraf: AA]

Erciyes
Erciyes, which has a safe ski center certificate as well as various winter activities such as snowboarding, sledding and long runs for non-stop skiing in Kayseri, has 13 hotels with a capacity of around 2,000 beds.
Erciyes offers its customers the possibility of skiing at different points thanks to its network of 19 mechanical installations, including 2 gondolas, with a length of 23,000 meters and a load capacity of 26,000 people per hour.
In the center, when it is not snowing, it is possible to ski and snowboard continuously with artificial snow with 154 machines.
The snow depth was measured at 120 centimeters in the ski center, which was established over a large area on Mount Erciyes and where all the 4-gate slopes, Tekir, Develi, Hisarcık and Hacılar, are open.
The season is expected to be extended until May with the actual snowfall.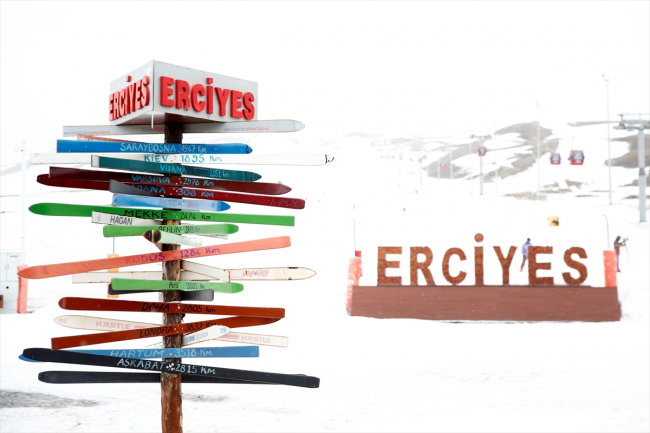 [Fotoğraf: AA]

Atabari
Atabarı Ski Center, which has been serving since 2009 on Mersivan Mountain at 2200 above sea level within the Artvin Youth and Sports Management Body, has been welcoming its visitors since December with its magnificent nature and thickness of 70 centimeters of snow on the ski slopes.
Mehmet Başköylü, director of the sports services branch of the provincial directorate of youth and sports responsible for the ski center, said that there are 2 separate slopes with a total length of 1300 meters and a chairlift of 595 meters and a 159-meter chairlift in the ski resort, which will be completed according to the level of difficulty.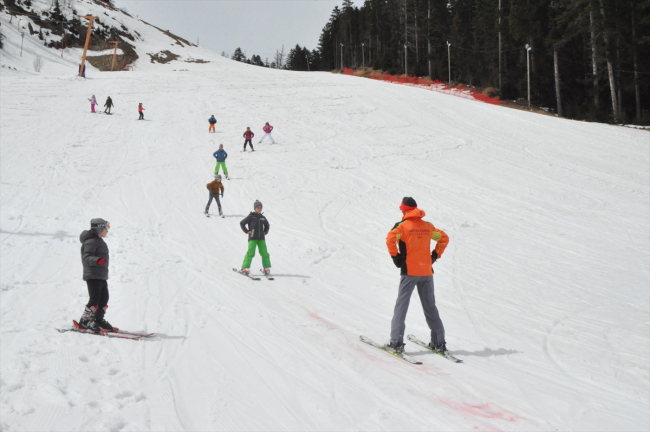 [Fotoğraf: AA]
Başköylü explained that the snow was 70 centimeters deep in mid-April.

"The season continues until the end of April. We are one of the facilities in Turkey to open the season first and last to close. We can go up to the top of the slope by chairlift, and go to the area where the slopes are less, where beginners can ski with the chairlift.We also have two tracked vehicles.
Başköylü said that visitors come to Atabarı Ski Center from various provinces in Turkey, especially cities in the eastern Black Sea region.
Başköylü said that the fees for using the facilities are at a reasonable level.

"We have invaluable nature. Incorporating this nature into winter sports makes our visitors happy. We have a busy season. We have had around 11,200 visitors this season. The season starts here in December and ends at the end of April. Our establishment attracts serious tourists to Artvin."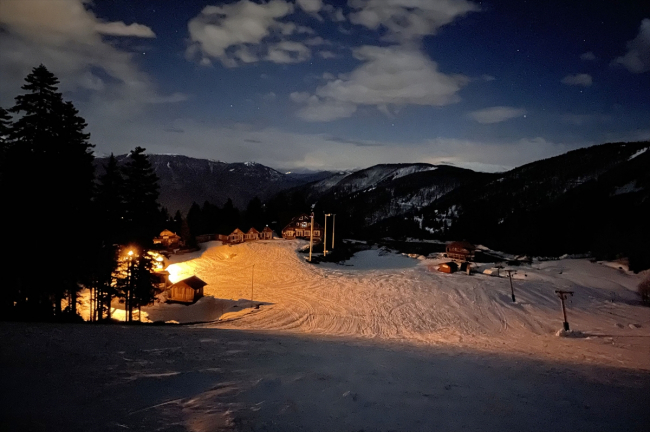 [Fotoğraf: AA]

Davraz
The snow that recently fell on the heights of Isparta extended the ski season at the ski center of Davraz, located in the Taurus mountains at an altitude of 2,635.
Preferred by ski enthusiasts throughout the season for its view of Lake Eğirdir, snow, and chairlift quality, Davraz's snow depth was 104 centimeters.
In the center, which hosts around 450,000 locals and foreigners this season, 3 hotels, one of which is 5-star, a one-day facility, 13 runs of varying difficulty levels and 4 chairlift lines with a length of around 25 kilometers serve ski enthusiasts.