Considering that technically spring has arrived since this month (it hasn't quite arrived in Istanbul yet), we threw ourselves into the forest of Belgrad as a family. During our walk in the forest, I started asking myself various questions about an unreal (surreal) economic/financial world while experiencing the beauties of nature in the real world. All of a sudden, I started to realize that our world of surreal economics was getting bigger every time. For this reason, I want to introduce you to the subject by sharing some of my analyzes of our unreal economic world.
This week, in the Dünya newspaper, the valuable analyst Bader Arslan "Surreal Interest Rates(https://www.dunya.com/kose-yazisi/surreel-faizler/654968) and after seeing the Central Bank's announcement that it will introduce additional macroprudential measures for lending in the coming days , I wrote this week's article about it. I thought it was appropriate to separate.
As Bader Arslan points out in his article; "Surrealism has spread as a literary and artistic movement that aims to sever the mind's connection with traditions, habits and known facts and create its own reality based on the subconscious."Salvador Dali is one of the most famous representatives of the movement.
Suppose that with the Currency Protected Deposit (KKM), which entered our diary as early as the week of December 20, the total amount is 14% + 3%. 17% back You have made a 3 month deposit with After 3 months, 4.25% At the end of March, with the periodic interest and the gain on exchange, approximately at 20% You have a close return. However, during the first three months of 2022, these revenues will be 22.80% below cumulative inflation.
In our surreal world of finance, which prevails in our country, you made a deposit for 1 year, for example, with 17%, as in the example above. However, due to the high inflation experienced, you will receive your deposit return of 17% at the end of the maturity period, but your investment portfolio will have a lower return in real terms since the purchasing power of your money will be less than it is. today. (CBRT April Market Participants Survey, 1Y CPI Expectation 28.41%, End 2022 CPI Expectation 46.44%)
announced by TUIK at the beginning of each month,Real rates of return on financial investment instruments"According to its report dated March 2022, only Gold bullion 6.04% level and 1.48% in US dollars actual level of performance has been achieved. Investors investing in the BIST 100 index, excluding these two investment instruments, face real losses at the level of -0.25%, Euro investors at the level of -1.37%, depository investors at the -4.06% level and domestic government debt securities. (GDDS) investors at the level of -8.20% they remained.
Monthly real rates of return on investment financial instruments, March 2022
Source: TUIK
When we look at these performance of investment instruments in the last 3 months of the first quarter of the year, we find that the yield performance of any investment instrument cannot compensate for the damage caused by inflation. They suffered real losses like Gold Bullion -5.21%, US Dollar -12.23%, BIST 100 -12.87%, Euro – 14.41%, Deposit Interest -15.05%, GDDS -17, 53%.
As can be easily seen from the two images, the main motive of investors over the past 6.5 months, starting from the last quarter of last year, is to protect their capital only. However, we find that all investors, regardless of their type of investment, are crushed by high inflation, except for fixed assets such as real estate, land, vehicles, etc.
Real rates of return on financial investment instruments (January – March 2022)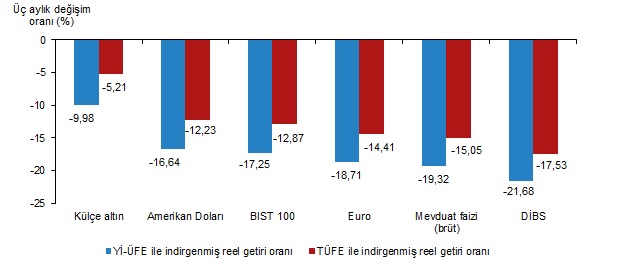 Source: TUIK
The absurdities of our unrealistic world of surreal finance don't just happen on the investment side. The most interesting view is basically "Credits" lives by. Companies' production costs, which have increased by more than 100% over the past year, have naturally created a serious erosion of their working capital. Financial management opportunities have become very difficult for small businesses with SME characteristics, with the exception of the large increases in turnover that can be achieved by industrial companies that can export almost 50% of their balance sheet.
"-20% to -30%" The array of consumer, commercial, car and housing loans, priced above negative interest rates, leaves a more striking impression on the Turkish financial market than the surrealist works of Salvador Dali.
Surreal lending and deposit rates (actual, %)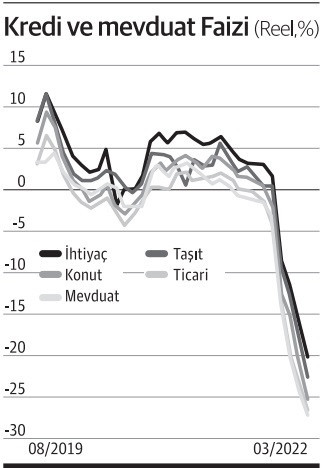 Source: Bader Arslan, Dünya newspaper, April 14, 2022
Due to the extremely negative commercial lending rate situation, the 13-week annualized commercial lending data since early March at 50% We see that there is an increase in the level approaching. There is no logical opportunity for evaluation in the face of this situation, which is very rational for entrepreneurs and extremely irrational for the state. I can only express this; "Investors making TL-denominated investments without currency or inflation protection will continue to suffer significant real losses on their capital until the end of the year, while a lucky minority, who can use loans to extremely negative real interest rates in Turkish lira, will receive a real loan at a lower rate than their real debt, they will repay the loan"Indeed, the portfolio income of qualified investors, who have been able to invest in fixed assets whose value increases faster than inflation, with the loans they have received, can reach the maximum points.
Commercial and consumer credit growth (13-week annualized)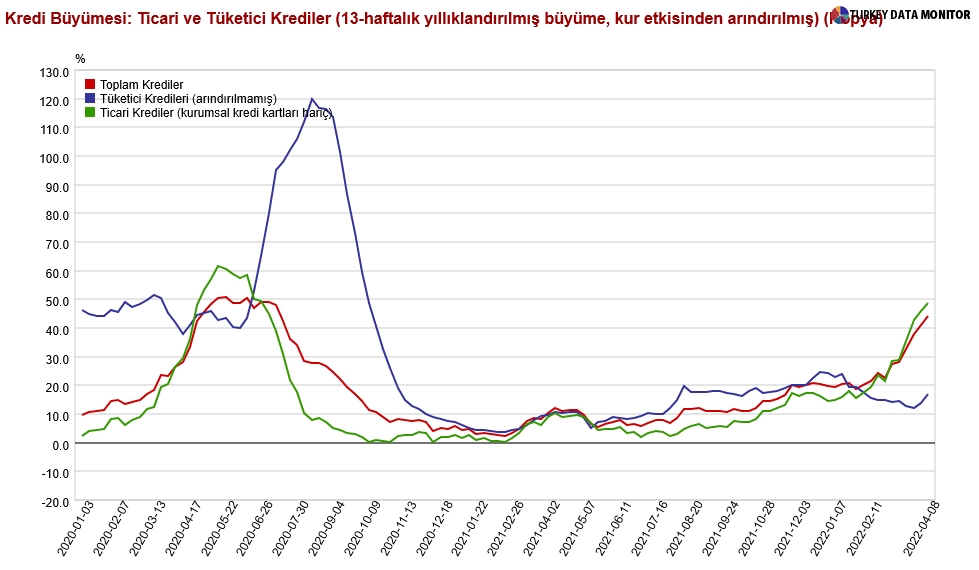 The profit created as a result of the valuation of the swap positions carried on the balance sheet of the CBRT through an accounting operation, and the capital support provided to public banks will be an important driver of loan growth to be experienced in the coming months. 51.5 billion TL with a capital contribution of approximately 425 billion TL I expect further loan growth in public banks in 2022. So in the banking sector Total 4.8 trillion TL At the end of 2022, the amount of Loans amounting to 6 trillion TL I guess it will come close. (+25%)
Inflation rate (CPI) and lending rate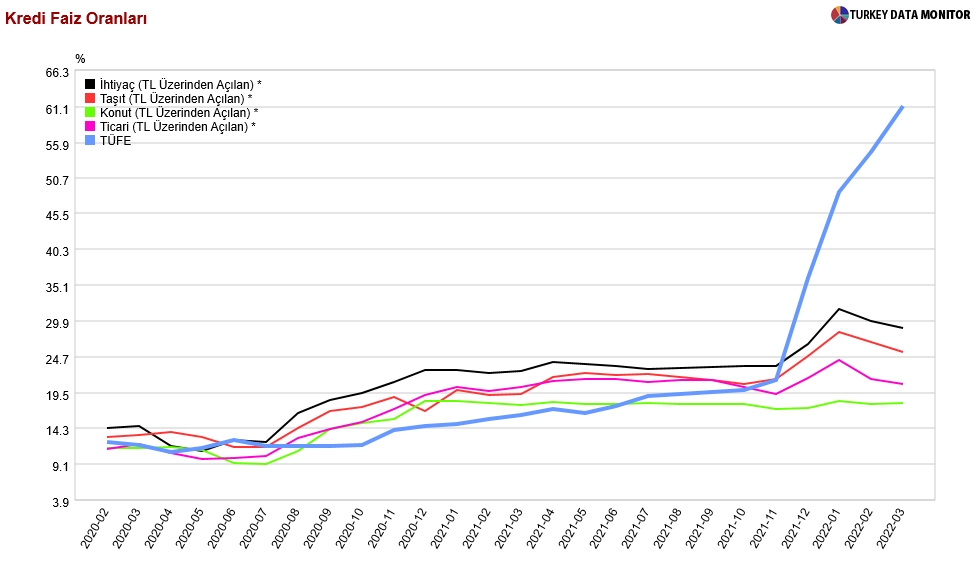 Note: It would be beneficial for international institutions, which have announced a growth forecast of around 1.4%/1.5% for Turkey at the end of 2022, to integrate credit developments into their models.
Another unique contribution to our surreal economic world came from the minutes of the meeting announced by the Central Bank at its Money Market Board meeting this week. According to the minutes of the meeting, it is understood that a more selective approach to loans will be introduced in the coming days. In the declaration made by the bank; "The Board has assessed that the growth rate of loans, including long-term investment loans in Turkish liras, and the meeting of accessible financial resources with economic activity in accordance with their purpose are important for financial stability. Within this framework, the Board has decided to strengthen macroprudential policy. statement was made. In the next period, I believe there will be a move towards diversification of loan disbursements on a sector-wide basis and on a firm basis However, the fairness of such an approach before the election is a question that remains completely unclear.On the other hand, I don't even see the need to assess the CBRT's statement that they are looking at a framework global policy that encourages a permanent and reinforced reading of all political instruments. Furthermore, "The CBRT will resolutely continue to use all ation until strong indicators emerge pointing to a permanent decline in inflation and until the medium-term inflation target of 5% is achieved in line with the main price target. stability." I am really upset with this standard statement they keep writing in the PPK minute notes. Frankly, no one has the right to delve into our surreal world of economics and finance. As a nation, we have already found ourselves at the bottom of Maslow's hierarchy of needs.We have the right to see, hear and live the truth, just like the 8 billion people in the world.
Another surreal take on the country's economic agenda came from Economy and Finance Minister Nabati earlier this week. Speaking at the meeting with the business community in Mardin, Treasury and Finance Minister Nureddin Nebati said they were working on inflation protected savings products and said:We prioritize the use of credit for investments without creating inflationary pressure" mentioned.
Following this statement by the Minister, I would like to remind you of some figures that have already taken place in our financial markets.
CBRT policy rate 14% CBRT level via Swap + Repo facilities. 878 billion TL while borrowing money, 2.2 billion TL Turkish lira deposit amount from 30% Although a small part of it is protected against a possible increase in foreign exchange with the deposits protected against the currencies, 1.5 trillion Turkish liras a close number of custodian investors have yet to receive currency protection and are busy crushing their capital quickly. And to them in the days to come,Inflation-proof depositWe understand from the news that the product will be offered. Sold to banks for yearsInflation-linked government bonds (TÜFEX) » and https://ms.hmb.gov.tr/uploads/2019/01/T%C3%BCfeye-Endeksli-An%C3%BCite-Devlet-Tahvilleri.pdf over the past year the government has provided a important source to the securities portfolios of the banks made the transfer. Indeed, the State has not forgotten to increase the corporate tax rate for banks by 5% this year and to take back part of it! It is a great misfortune for investor confidence that retail investors have so far been deprived of this opportunity due to inflation which is certain to approach 70%. The announcement that an inflation-protected deposit product will be offered to investors ahead of the CPI, which looks set to fall by more than 20% in December 2022 and January 2023 due to the base effect, was also very significant. This product should have been put in place early in the process to protect investors against rising inflation before the rise in inflation began.
Last word: Mythomania (lying behavior) is known as a person's psychological need or desire to be satisfied and relax after the behavior.