class="medianet-inline-adv">
Change is afoot at Manchester United, who have been unable to achieve the expected success in the Premier League and European cups for many years. Erik ten Hag, who got a 4-year contract for the coaching position, has already started making snap decisions for the structure of the team.
At the start of the season, the Red Devils, who strengthened their squad with transfers such as Cristiano Ronaldo, Jadon Sancho and Raphaël Varane, set the championship target, and remained outside the top 6 under the management of Ole Gunnar Solskjaer.
MOVES WITH SOLSKJAER, RANGNICK'S TEMPORARY PERIOD BEGINS
He and the giant club's manager Ole Gunnar Solskjaer parted ways in December. Although there was a lot of news about the future of Mauricio Pochettino, who was coaching PSG, as the team's boss at the time, there was no agreement and the management brought German coach Ralf Rangnick at the head of the team "temporarily". . It has been announced that Rangnick will continue his role as adviser to the football department following the discovery of the senior manager.
class="medianet-inline-adv">
Manchester United, which has had its ups and downs under the management of Ralf Rangnick, was eliminated by Atlético Madrid in the knockout stages of the Champions League, and is struggling to enter the top 6 of the championship.
AN AGREEMENT HAS BEEN REACHED WITH ERIK TEN HAG
Manchester United have found their new manager after lengthy discussions and meetings. In numerous foreign media news, it has been claimed that the Red Devils have agreed a 4-year contract with Ajax coach Erik ten Hag. No official statement has yet been made from the US side.
The search for a manager at Manchester United has been led by John Murtough and Darren Fletcher. British giant; He chose Erik ten Hag from a list of names including Thomas Tuchel, Julian Nagelsmann, Mauricio Pochettino, Luis Enrique and Julen Lopetegui.
"POCHETTINO'S CONTRACT WITH PSG AFFECTED THE DECISION"
ESPN, one of the organizations that announced that Erik ten Hag would be Manchester United's new manager, wrote that Manchester United had dropped the Argentine manager due to the fact that Mauricio Pochettino had a contract with PSG and that the release price was high.
class="medianet-inline-adv">
2 MILLION EUROS WILL BE PAID TO AJAX
Manchester United will pay Ajax a €2m contract termination fee for the 52-year-old Dutchman.
The career of Erik ten Hag
Ten Hag, who ended his football career and started coaching in the Twente infrastructure in 2002, worked as an assistant coach in the Netherlands team between 2006 and 2008. Later became assistant coach of the PSV Eindhoven, ten Hag coached Go Ahead Eagles and Utrecht.
The Dutch coach, who was part of Pep Guardiola's squad at Bayern Munich, signed for Ajax in 2017. Erik ten Hag won 2 Eredivisie, 2 Dutch Cups and 1 Dutch Super Cup with Ajax in 5 years.
The 52-year-old technical man's average score at Ajax is 2.36.
class="medianet-inline-adv">
Ajax, coached by Erik ten Hag, are leaders in the Dutch league with 28 weeks remaining, 4 points ahead of nearest rivals PSV. The Dutch coach wants to win his third championship and go to Manchester United.
THE ENGLISH PRESS ANNOUNCES THE LIST OF TRANSFERS
The British Daily Mail wrote that Manchester United would open the bag for Erik ten Hag. According to the report, the Red Devils list includes Harry Kane, Declan Rice, Kalvin Phillips, John McGinn, Jude Bellingham. It has been claimed that Erik ten Hag would also like to transfer some of his players from Ajax.
Farewell to POGBA AND RONALDO
In addition to the new transfers, the players that Ten Hag will not consider in the squad will be talked about a lot. Latest news, the Dutch coach doesn't consider Cristiano Ronaldo and Paul Pogba in the squad. On the other hand, the separation with Cavani and Lingard is considered with certainty.
class="medianet-inline-adv">
RONALDO AND RANGNICK'S STAR DID NOT REACH
Returning to Manchester United after 12 years, Cristiano Ronaldo, who wanted to make his mark on the Premier League despite his advanced age, and star Ralf Rangnick didn't get along very well. The Portuguese star, who didn't fit well with the system the German coach wanted to play, reacted to Rangnick when he was taken out of play in some matches.
WHAT HAS RONALDO DONE THIS SEASON?
Cristiano Ronaldo, who played 25 Premier League games, scored 12 goals and provided 3 assists. The Portuguese star, who made 7 Champions League appearances, scored 6 goals and made his side group leaders. The 37-year-old star footballer played a total of 33 games for Manchester United, scoring 18 goals and making 3 assists.
class="medianet-inline-adv">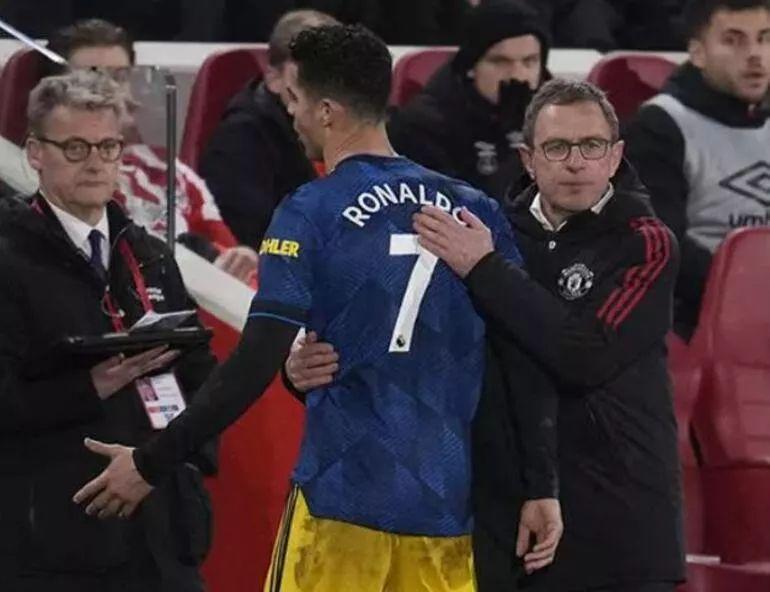 IT HAPPENED THAT THE FAN BROKEN THE PHONE
Cristiano Ronaldo has made an unexpected move after Manchester United's 1-0 loss to Everton. Ronaldo, who punched the hand of an Everton fan who was taking video of him on his way to the locker room, knocked the fan's phone to the ground and smashed it. These moments were shared on social media by other fans who filmed the departure of the Portuguese star from the stadium in this area.
Apologizes to social media, INVITE FANS TO OLD TRAFFORD
Cristiano Ronaldo, who broke the agenda by smashing Everton supporters' phones as they left the stadium, apologized on social media hours after the game and invited the fans, whose phone he broke phone, watching the game at Old Trafford.
Dealing with emotions in difficult times is never easy. Sorry. As a demonstration of sportsmanship and fair play, I invite these fans to watch one of our matches at Old Trafford.
Cristiano Ronaldo
FAN'S MOTHER RISKED! "My child has autism…"
After the incident, Sarah Kelly, mother of 14-year-old Everton fan Jake Harding, made statements about the matter and criticized Ronaldo.
"We were very close to the tunnel the players were in. My son was also filming them as they came in," his mother Kelly said. "He filmed all the United players but then he hung up the phone and stopped shooting because Ronaldo his leg was bleeding. He put his phone down to see what was going on, he didn't even speak. .
I was crying. Jake was in shock. My son is autistic and dyspraxic. That's why he couldn't digest what happened until he got home. He was very upset about what happened and decided not to go to the game anymore. It was the first and last game he went to. We had a great day until just seconds before Ronaldo came off, but he ruined it with his shot. Although he didn't play for Everton, he was a football player he admired and idolized. I would understand if Jake had the phone in front of him, but he didn't. My son was molested by an autistic boy and a football player. That's how I see him as a mother.
The mother of an Everton fan