Istanbul Governor Ali Yerlikaya made assessments on the snowfall in the city and announced the new measures taken during the press conference he held at the Hasdal campus of the Disasters and Emergencies Directorate (AFAD). Governor Yerlikaya recalled that they had held a snow fight preparation meeting at AFAD last Tuesday with the participation of district governors, metropolitan mayors, district mayors, gendarmerie, police and Coast Guard, AFAD, AKOM, Turkish Red Crescent and related institutions.
According to the detailed presentation of the weather forecast made by the Regional Meteorology Directorate during this meeting, Yerlikaya noted that they have evaluated all the measures that can be taken against the negative situations that could be caused by heavy snowfalls and abundant in the city, and in the in the light of the data of the Regional Direction of Meteorology, they have taken all the necessary administrative measures, especially for the health, safety and tranquility of the citizens, He said that they continue to receive it.
Emphasizing that all relevant institutions are on duty around the clock against adverse weather conditions, snow and sleet, Yerlikaya conveyed the following information: "754 staff members, 209 vehicles, 148 vehicles on the 473 kilometer road network in the area of ​​responsibility of our 1st Regional Highways Directorate, 148 in the area of ​​responsibility of the ICA operation of the North Marmara Highway 215 personnel, 117 vehicles in the kilometer road network, 170 personnel, 73 vehicles in the 92 kilometer road network in the area of ​​responsibility of the North Marmara Highway Administration, 22,000,377 people in the metropolitan municipality and all district municipalities, 4,000,457 vehicles, 2,000 in 435 teams spread over 87 points of our Gendarmerie Command We took the necessary security measures with 554 people, 373 traffic in 240 points in ns our police department, a total of 24 thousand 520 people with a security team of 1917, and 13 floating elements, 1 flying element and 106 people in our coast guard command.
"RELATED MINISTERS FOLLOW THE ANBEAN PROCESS"
Istanbul Governor Yerlikaya said AFAD, with its 207 staff and 78 vehicles, is on duty around the clock against bad weather, and the Turkish Red Crescent continues to provide catering services to citizens with a total of 317 employees, 160 of whom are volunteers and 90 vehicles spread over 37 points.
Recalling that they have suspended education in schools, universities, kindergartens, nurseries and crèches until Monday, March 14, Yerlikaya also recalled that they have decided to take the staff working in the institutions other than the security, health and transport services on administrative leave today.
Yerlikaya noted that Interior Minister Süleyman Soylu, Transport and Infrastructure Minister Adil Karaismailoğlu and Commerce Minister Mehmet Muş have been monitoring the process at all times.
AUTHORIZATION CONTROLLED FOR TRAILERS AND TRUCKS
Recalling that from 04:00 from Thrace and Anatolia they stopped the entry of trucks and trucks heading towards Istanbul, and the trucks and trucks in the city stopped their exit to traffic, Yerlikaya said that they wanted trucks and moving trucks to stop at the nearest parking lot.
Yerlikaya noted that in light of the data they have received from meteorology, they have allowed these vehicles to pass in a controlled manner starting at 10:40 a.m. today, and they will continue to let them pass as long as the weather conditions permit. will allow.
Yerlikaya thanked all drivers who followed the warnings and measures taken in the indicated parking areas, and wished all drivers safe, accident-free and beneficial journeys, saying safety is a priority.
Yerlikaya also thanked the Turkish Red Crescent, which provided plenty of water and hot soup at highway services and parking areas throughout the night.
Emphasizing that they have taken scientific data and consultations, and will continue to take the measures required by the adverse weather conditions, which are expected to continue for a few more days, Yerlikaya said they also shared them promptly.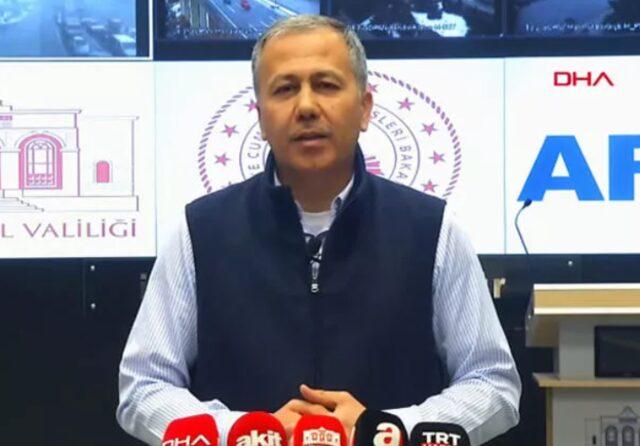 SCOOTERS AND MOTORCYCLES ARE PROHIBITED
Explaining that they have made two new decisions as a result of the assessments made, Governor Yerlikaya said: "The first of these is the decision that civil servants, workers and other personnel will be on administrative leave on Friday 11 March, except for security reasons, health and transport services, on the condition that there is a minimum of personnel to carry out the mandatory services in their establishments. I also want to remind you that, like today, our pregnant, disabled and disabled employees of public establishments and bodies will be considered on administrative leave on Friday, March 11. Secondly, I would like to point out that from 7 p.m. today, scooters and motorcycles will not be allowed to circulate until our next announcement and that there will be no car courier service.
Yerlikaya asked citizens not to go out into traffic unless it is compulsory and to prefer public transport vehicles. Yerlikaya also warned citizens to have winter tires in their vehicles and said the 112 emergency call center will be at the service of citizens 24/7.
Governor Ali Yerlikaya conveyed his thanks to all employees who worked day and night due to snow and adverse weather conditions.
JUDGES AND PROSECUTORS ALSO HAVE ADMINISTRATIVE AUTHORIZATION
On the other hand, the Judges and Prosecutors Council (HSK) has decided that judges and prosecutors will be on administrative leave tomorrow due to persistent weather conditions in Istanbul.
In the statement made by the HSK, it was stated that according to the forecast of the 1st Regional Directorate of the General Directorate of Meteorology, adverse weather conditions in the form of cold weather, heavy snowfall and strong winds will continue. tomorrow in Istanbul.
In this context, it is stated in the statement that it has been decided that the judges and prosecutors stationed in Istanbul will be on administrative leave tomorrow, "It has been decided that the duty services of the judges and prosecutors will be carried out within the scope of our Guideline No. (3) on Performance Principles and Procedures." expressions have been used.
Due to weather conditions, judges and prosecutors in Istanbul were also on administrative leave today.
According to data from the Regional Department of Meteorology

Provided that the mandatory services are carried out by our institutions and that there is a minimum level of staff;

All personnel working in the public sector, except security, health and transport services.
He will be on administrative leave on Friday, March 11, 2022.

— Ali Yerlikaya (@AliYerlikaya) March 10, 2022
CLICK TO RETURN TO THE HOME PAGE

Attention social media sellers! They cheat the same way

Karamollaoğlu's remarkable statement: President Erdoğan will not be a candidate

Visitor to the prison, the pope washes and kisses the feet