The Soyl-Gel initiative, which has developed a material in the lab that can halve irrigation in agriculture and bring water to plants in times of drought, is supporting women farmers to grow crops on an area of ​​80 decares.
The Soyl-Gel initiative transforms the irrigation solution developed in the laboratory into a social responsibility project. By developing a product that halves the frequency of irrigation in agriculture, Soyl-Gel launched a project with Turkey's leading crowdfunding platform, Fongogo. It aims to raise 175,000 TL for the project titled "The future will grow in the fertile hands of women". With Soyl-Gel, women farmers can grow crops on 80 decares of land. A group of researchers from Sabancı University, Yeşim Menceloğlu, Ogeday Rodop and Dr. Senem Seven founded Soyl-Gel to develop high technology for sustainable agriculture. He developed a product that retains 600 times its weight in water and cuts the irrigation water used in half. The story of science-based entrepreneurship should be a project that will impact agriculture.
SUPER ABSORBENT MATERIAL
Dr. M. Senem Seven recalled that the use of superabsorbent materials as a reservoir of water in agriculture is a practice known before and said, "The difference of the material we have developed compared to these alternatives is that it has a nanocomposite structure containing natural nanoparticles. releases water to plants more slowly, providing drought resistance for a longer period of time, while allowing the soil to swell to its maximum capacity under pressure because we have a mechanically stronger structure."
OUR ACADEMIC INTRODUCTION
It takes time for an initiative started in academia to materialize. However, İşbank's entrepreneurship program creates an important opportunity for the Soyl-Gel initiative. Mr. Senem Seven explained the transformation of the project into a company as follows: "We are an academic company. We had difficulties in finding the opportunity for the technology to come out of the laboratory and apply it in the area, often called the valley of death". between academia and industry. For example, it is still possible to reach out to leading farmers who want to field test our technology. It's easy. İşbank's Workup Agri program has given us great support in this regard.
TO THE POTS AND THE GARDEN
Stating that they aim to start the direct sale of the Soyl-Gel product in small packages to flowerpots and ornamental gardens, Mr. Senem Seven explained the contribution to the circular economy as follows: "We also aim to sell on a large scale in conventional agricultural fields this year. On the other hand, by making our product with recycled materials, it will contribute to the circular economy. We continue to work to participate in it.
USE OF TECHNOLOGY He encourages
Stating that they encourage the manufacturer to use the technology by giving a pre-purchase guarantee in the PROJECT, Seven said, "Later, 20 different products grown in these areas will be processed in women's cooperatives and processed into final products. such as jam, tomato paste, dried fruits. We also send small gifts to our supporters in these products. Our project is Türkiye İş Bankası, Adana. It is supported by the Provincial Directorate of Agriculture and Fongogo. The product catches the attention of women farmers even before it starts to sell. "
***

TRADE, EDUCATION AND TOURISM THE FUTURE WILL BE THE METAVERS
Claiming that Metaverse will change the future of the internet, education, tourism, culture, commerce and even human communication, XR Masters CEO Ali Cumhur Hantal said Metaverse will provide a different experience .
The era of the metaverse, defined as the future of the INTERNET, education, tourism, culture, commerce and even human communication, will undoubtedly change many things. Ali Cumhur Hantal, CEO of XR Masters, International Open AR Cloud Association (OARC) Testbed Coordinator, says that the existing experiments are different metaverse experiments rather than one "metaverse", therefore, they should be called multiverses. For Multiverses to become a Metaverse, it first needs a true Metaverse infrastructure and the development of global standards and protocols. A 12-person international committee, including Ali Cumhur Hantal, is working to develop these standards and protocols under the umbrella of the Open AR Cloud Association.
STATUS OF STANDARDS
Calling attention to the importance of standards for the realization of the Metaverse, Hantal explained the change to live as follows: "We can compare today's Metaverse applications to the intranet, which was the starting point of "internet in the past. After the concept of Metaverse was introduced, anything virtual or augmented began to be defined as Metaverse. Although there is no consensus, experts claim that for a experience is called a true Metaverse experience, it must first be experienced by more than one user simultaneously. In a cloud-based AR Metaverse, an AR object placed on the real world in another Metaverse with the approval of the 'user, in the same place and in the same place. It will be possible to speak of a 'Metaverse' instead of multiverse because it can be displayed in the same way."
DATING ON THE CLOUD
Stating that Metaverse can be technically experienced in two different ways, one based on virtual reality and the other based on augmented reality cloud, Hantal continued his remarks as follows: "We have been working for 2 years to create these standards Open Augmented Reality Cloud Association, an international team of 12, including XR Masters CEO Ali Cumhur Hantal, works with over 300 association members to develop Metaverse Google's standards and protocols. by Opern AR Cloud, which is authorized by the Open Geospatial Consortium (Open Geospatial Consortium), which is one of the leading organizations in this field, which has made accepted the standards used by the World Wide Web on two-dimensional maps , is currently in the approval stage. It aims to democratize the Real World Metaverse with Open Source Code. The XR Masters team, which has signed many important software projects for more than twenty years and provides information technology strategies for global enterprises, has been doing R&D studies and software development on Metaverse technologies for the past 7 years."
OBJECTIVES OF ADDING TURKEY TO ITS METAVERS MAP
TURKEY Aiming to digitize the entirety of it and make a digital copy and add it to the Metaverse map, XR Masters plans to produce content on daily life in our country using the technology it has developed , and to transfer historical and cultural heritage to future generations through special platforms that can be provided in the new universe. Using XR Masters infrastructure, Ankara Metropolitan Municipality has agreed with Open AR Cloud Association. Ankara has become the fourth Open AR Cloud test city in the world.
***

VIVO V23 COMES WITH A 4K COLOR CHANGING GLASS SELFIE CAMERA
The Vivo V23 5G, whose rear glass surface changes color when you hold it in your hand, makes video content producers particularly happy with its 4K front-facing selfie camera. It also fits more faces in clear photos thanks to its 8-megapixel super wide-angle camera on the front. Vivo V23 5G creates a smooth user experience by giving you less reflection in various lighting conditions thanks to Fluorite AG technology used on the back surface of the device you are holding, which instantly changes color when exposed to sunlight and other UV light sources. The V23 5G has a 50MP wide-angle dual front camera, which is also a first in Turkey. With the combination of a 50 MP autofocus front camera and a second 8 MP super wide-angle front camera, you can both take wonderfully clear photos and capture super wide images even on the front camera. So you can put an end to the problem of not being able to include everyone in a group selfie photo.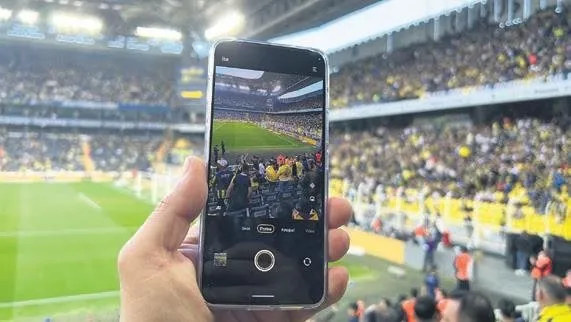 ULTRA GAME MODE
Game users are not forgotten in V23 5G. Delivering ultra-smooth performance with its 90Hz refresh rate screen, extended RAM 2.0 technology, 7-layer liquid cooling system and Ultra Game mode for optimal gaming experience, the new V23 5G adds dust to mobile games. At the same time, in addition to 12 GB of RAM, plus 4 GB of Extended RAM technology, it rivals its competitors in terms of performance. With its "Natural Portrait" mode, V23 5G enables users to capture more facial details and express their natural side with "Texture Enhancement", "Extraordinary Clarity" and "Natural" features.
QUICK CHARGE FEATURE

6NM Powered by MediaTek Dimensity 920 SoC, V23 5G supports dual-mode 5G, which provides a smoother connection with less power for mobile entertainment, while achieving a 19% increase in single-core benchmark score over the generation previous. It allows phones to be charged from 0-68% in just 30 minutes.