class="medianet-inline-adv">
After the meteorology warnings, the expected rainfall in Istanbul entered the city yesterday morning and was effective at intervals during the day. As the snowfall in Istanbul increased its effect during the night hours, it turned the city white. The rain, which increased its speed from time to time, continued at certain intervals until the morning hours.
As passing vehicles struggled on the snow-covered roads, teams from the Istanbul Metropolitan Municipality continued their work to keep the roads open.
Here is the latest situation in Istanbul, minute by minute:
21.10 The Mount Bolu D100 highway crossing has been closed to vehicular traffic towards Istanbul. On the TEM highway towards Istanbul, trucks and lorries are not allowed to pass.
8:25 p.m. Stating that an "orange" alert has been issued for Istanbul, Governor Yerlikaya said: "We have to be very careful tomorrow night and on Sunday we have taken our measures."
class="medianet-inline-adv">
19.20 Roads remained empty despite it being Friday as citizens who did not use their vehicles due to snowfall in Istanbul turned to public transport vehicles. It was observed that the traffic, which exceeded 70% with the end of working hours on normal days, was at the level of 13% today.
5:10 p.m. Unkapanı Bridge, which was closed to traffic due to separation at the connection point, was opened to traffic after working hours.
14:40 Istanbul Governor Ali Yerlikaya took part in the CNN TÜRK live broadcast. Here are Yerlikaya's statements…
We want our fellow citizens to make the following sacrifice in order to be able to fight snow and ice on these roads. Do not go out except in an emergency, winter tires and public transport if necessary, in order to have continuous fluidity on the road. If you say wait for trucks and trucks, you have to offer a treat to these friends. Our Red Crescent has really studied its lesson very well. The largest area was in Kızılay. We want that; in fact, we never want to stop any of our drivers on the way. I am grateful to all of them, there were no complaints anywhere. Our Red Crescent was so welcoming that we received thanks from all our friends who sent us there.
class="medianet-inline-adv">
Our fellow citizens know how important motorcycle couriers are in the megalopolis. The safety of our motorcycle couriers is a necessity for us. If the weather conditions are not suitable, consideration should be given to their driving safety. Our media really gave a great test in the fight against the snow. They never neglected to say good to good and bad to bad, thank you again.
NEW WEATHER WARNING
13:45 According to the latest evaluations; Intermittent and locally heavy snow showers are expected in Istanbul tonight and tomorrow (Saturday). It is estimated that from Saturday evening, snowfall, mainly on the European side, will further accentuate the effect and violent thunderstorms will be seen from place to place. With the snowfall expected to lose its effect after noon on Sunday, care and caution should be taken in the face of negativities such as transport disruptions, icing and freezing.
12:40 The connection point of Unkapanı Bridge, which connects Beyoğlu and Fatih districts, was broken due to high winds.
Bridge inaccessible due to break-in port.class="medianet-inline-adv">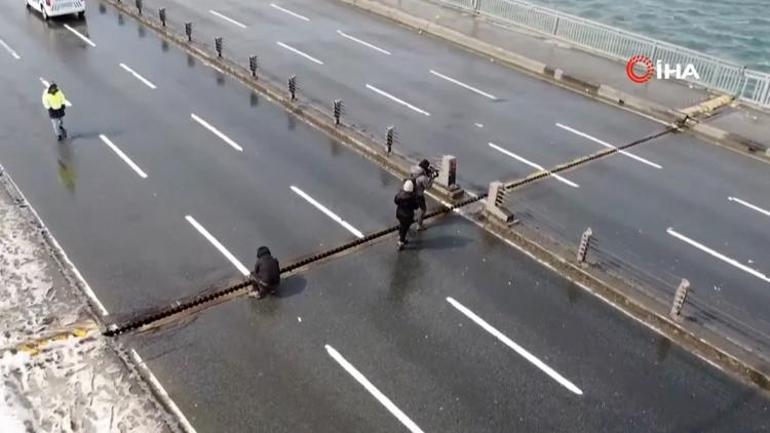 11.51 The location of the TEM Mahmutbey highway, where the snowfall is effective, was seen from the sky.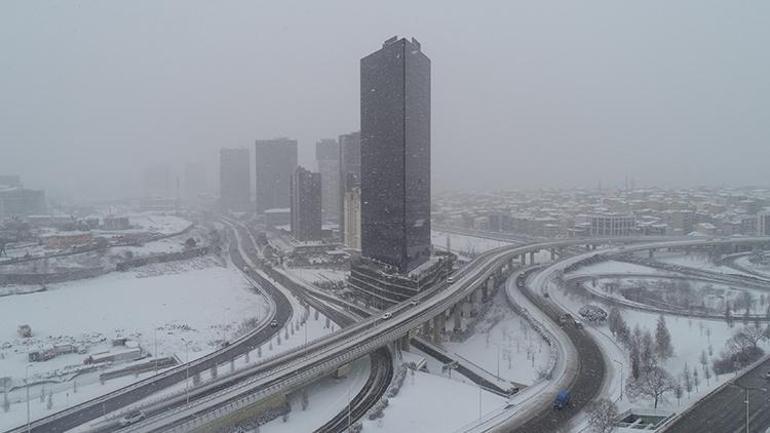 11:27 Due to snowfall in Istanbul, intercity bus services at bus stations were canceled by the governor of Istanbul in the morning. In the statement made by the governor's office, it was announced that buses were allowed to exit bus stations.
11:21 a.m. Drivers struggled due to snowfall in Istanbul's Pendik district. The driver of the vehicle, who lost control due to the slippery ground, crashed into the parked vehicle.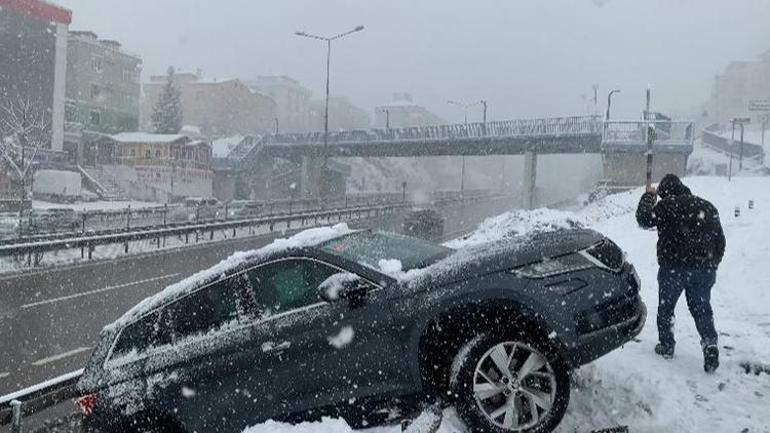 09:41 Şekib Avdagiç, Chairman of the Istanbul Chamber of Commerce Board, announced that malls will start accepting customers from 12:00 p.m. today and close at 7:00 p.m.
Avdagiç made a statement about it on social media: "In view of the difficult weather conditions in Istanbul, during the meeting with the presidents of the Association of Shopping Centers and Investors, BMD and TAMPF, the shopping centers will start to accepting customers from 12:00 today and will close at the agreed 7:00 p.m. statements have been included.
class="medianet-inline-adv">
MINISTER KARAİSMAİLOĞLU ANNOUNCED HIGHEST EXPECTED SNOW DAY
As snowfall continues to intermittently affect Istanbul, Transport and Infrastructure Minister Adil Karaismailoğlu said snowfall can be troublesome from 6:00 p.m. Saturday to 6:00 a.m. Sunday.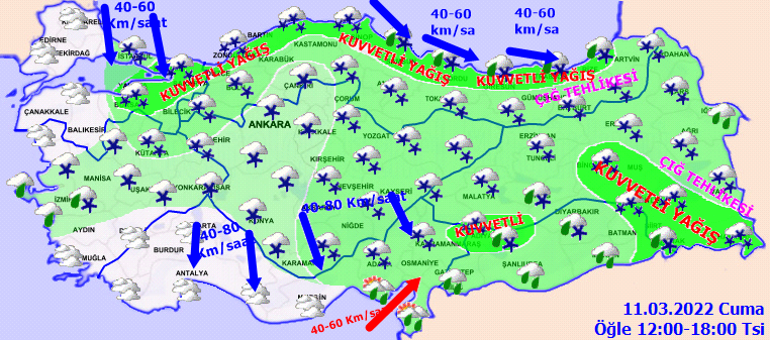 TEACHER. DR. SEN: SNOW WILL REDUCE SUNDAY VIOLENCE
CNN TÜRK Meteorological Advisor Prof. Dr. Orhan Şen said: "There is typical snowfall. The reason is that the weather is very cold. Snowfall will continue until evening. Heavy snowfall over Istanbul. It will continue from morning until at noon tomorrow. This will reduce its severity on Sunday. Snow depths appear to be over 30 cm in some areas.
class="medianet-inline-adv">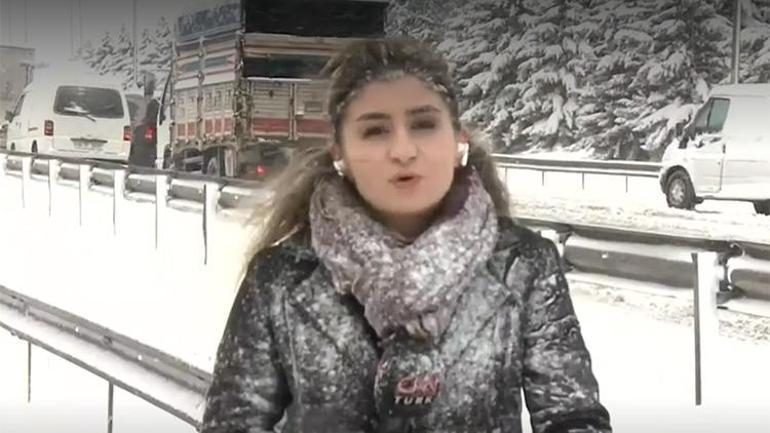 TURKISH CNN JOURNALIST HARD MOMENTS: THERE IS A PROFIT EXCEEDING 20 CM
CNN TÜRK correspondent Merve Tokaz reported the latest situation in the Mahmutbey Tolls area of ​​the TEM highway. Tokaz said: "It is snowing with a storm and a blizzard. Traffic is blocked in the direction of the tolls of Mahmutbey, snowplows try to clear the passage for cars. There is a depth of snow that exceeds my wrists, we can speak about snow exceeding 20 centimeters.
NEW WEATHER BULLETIN OF METEOROLOGY
According to the latest assessments made by the General Directorate of Meteorology: It is estimated that it will be very cloudy in our country in general, and rainy intermittently in all regions except western Çanakkale and the southern coasts of the Aegean Sea. Precipitation should be in the form of rain on the Mediterranean coasts and southeastern Anatolia, sleet and snow in other places; Black Sea Coasts, Southeast of Eastern Anatolia and Kocaeli, Sakarya, Bursa, Yalova, Bolu, North and East of Adana, N. Maraş, Osmaniye, Hatay, Nevşehir, Niğde, Erzincan, Tunceli, Bingöl, Erzurum, Muş, Adıyaman, It should be strong locally east of Diyarbakır around Batman and Siirt. There is an avalanche hazard in the interior and high parts of the Black Sea and in sloping areas with heavy snow cover in eastern Anatolia. Outside the Mediterranean coasts, frost and frost are expected across our country.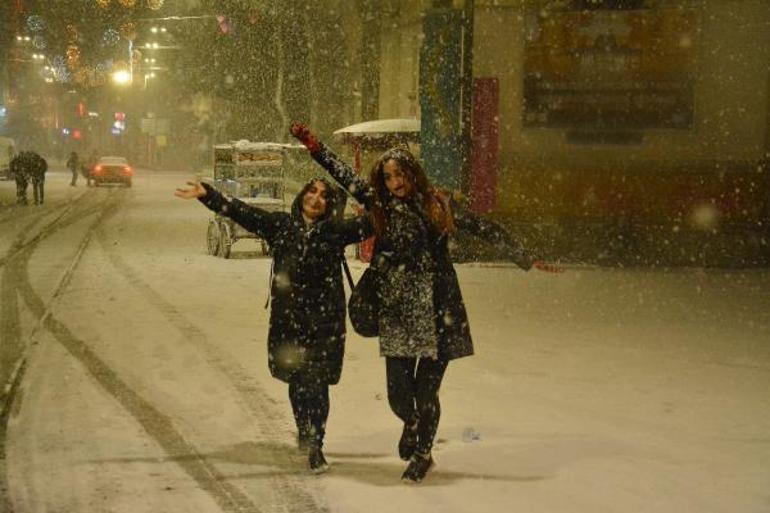 HEAVY RAIN WARNING
precipitation; Kocaeli, Sakarya, Yalova, Bursa, Konya, Karaman, Aksaray, Kayseri, Nevşehir, Niğde, east of Antalya, Adana, Kahramanmaraş, Osmaniye, Hatay, Muş, Erzincan, Tunceli, Bingöl, Bitlis, Şırnak, southern circles of Van Since is expected to be strong and in places dense in the surrounding areas of Hakkari, Adıyaman and Siirt, it is necessary to be careful and cautious against possible negativities such as transport disruptions, flooding, flooding, icing and freezing at high altitudes.
STRONG WIND WARNING
Since the wind is expected to blow from the north and northeast directions in the Marmara and the Aegean Sea and inside the Mediterranean, and from the north and northeast in the southern parts of central Anatolia, and the Southwesterly directions in and around Iskenderun Bay, thunderstorm conditions (40-80 km/h) are expected in places, so please be careful and cautious of any negativities that may arise.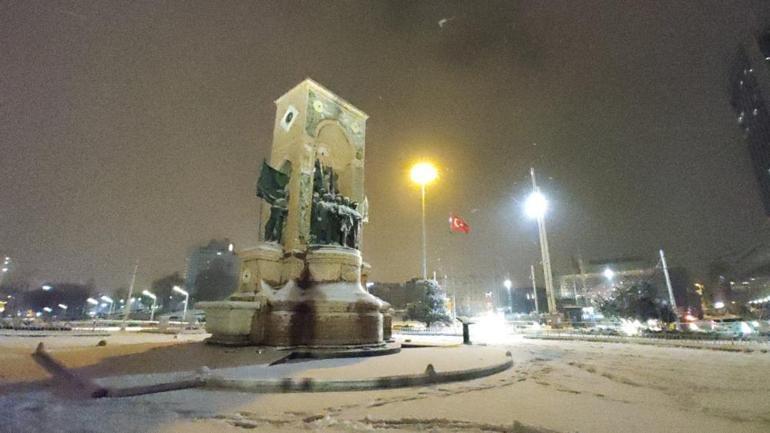 AVALANCHE DANGER WARNING
It is necessary to be cautious and cautious against negativities that may arise due to the risk of avalanches in the inner and high parts of the eastern Black Sea region and on steep slopes with heavy snow cover in the eastern Anatolia.
ICE AND FROST EVENT WARNING
Since icing and frost are expected in Marmara, in the inner parts of the Aegean and in the interior and eastern regions, it is necessary to be careful and cautious about the adverse conditions that may arise.
The General Directorate of Meteorology issued a code orange warning for Istanbul and a code yellow warning for 56 cities.