Breaking news… DEVA Party Chairman Ali Babacan said in a statement regarding former Central Bank Governor Süreyya Serdengeçti that they did not want his resignation and that President Recep Tayyip Erdoğan had put pressure on him on this subject.
DEVA party chairman Ali Babacan answered questions about the agenda on Halk TV. In a statement on former Central Bank Governor Serdengeçti, Babacan said: "We could have asked for his resignation as soon as the government was formed. He probably could have quit. of the Central Bank. We did not do it. Despite Mr. Erdogan's pressure on me… He said: "Horse, what do you work with, horse, what do you need."
Highlights of Babacan's statements in said show are as follows:

"We as the DEVA party had done our work on a strengthened parliamentary system. Other parties did their own work. Then we got together and worked together. The text of reconciliation came out. Reconciliation is very important. There is 6-party agreement in every sentence and every point. Politics in Turkey is completely under the power of the government. Walking on the ground of polarization.
"The government is trying to rule the country by polarizing the country, constantly producing an enemy, declaring an enemy every week. It's declaring an enemy, it's trying to keep the support around it like that. Notice I said something thing called "the enemy of the week chart. You need an enemy every week. " Without exception. Look at it this way, every week the government has an enemy. Mr. Erdogan has an enemy, Mr. Bahçeli has an enemy. There will always be opposition.
"In the parliamentary system, it is more elegant to publish a common text in a common book. We preferred a common book rather than a separate book by each party. As an administration, we set the general framework for our friends. They work Then, we say, bring them in once in a while.
"There is a need to share the facts with the public as they are. There is a need to share the agreed point. We need to know together that the process ahead will be very important and more work will be done. one of the 4 items on the agenda. We agreed on this issue, we fixed the date. We wanted the place to be in Ankara. : We chose a meeting room, and we wanted let it be decent and modest.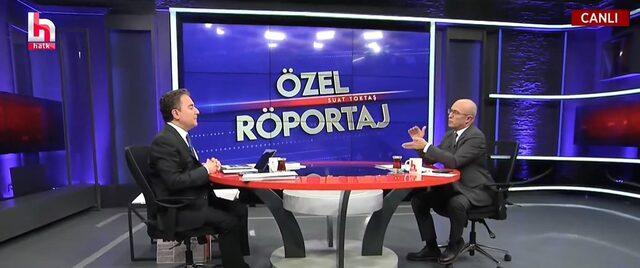 "We are in the midst of an economic crisis. We have talked about covering the expenses of the meeting. We need to talk. This cannot be postponed. Turkey is at a very important crossroads at the moment. It is not only a question of the next 5 years of the country. Let's say the next election in 2023, if it comes on time, after the next election. What kind of Turkey do we want to see from now on?
"For example, in our joint statement there are references to the Council of Europe and the European Union. Everyone's understanding of democracy may be different when it comes to this very important democracy. Many countries view democracy as simply elections.
"For example, what the current government says, it says 'domestic', it says 'national'. It doesn't matter how many bad jobs there are, how many jobs are outside of universal standards, it imposes it on this country. He says, 'I have to do whatever comes into my head. He says, "I have to do everything with one signature, no one should stop me."
"We see the point where we are. So there needs to be a criterion here. The Council of Europe is an institution of which we are the founder. They forget that Turkey is also a European country.
"THE KOSKOCA COUNTRY IS DIRECTED AGAINST"
"The country cannot be governed. We even say that. The country is governed by mistake. How do you say that? They issued a decree which passed. It is very interesting. In the decree, VAT on food was reduced to 1 percent, or they increased the VAT on meat to 18 percent in the same decree. When the reaction came, they said sorry or something. They said it was an error. They corrected it with a new decree. Now the dictionary meaning of error is 'an error caused by negligence or forgetfulness…' The whole country is ruled by error. Believe me, there is nothing like it. Here is authority again. or, without consultation, without control, without filtering, managed by decisions with signatures signed at 2 am at 3 am. That's all. This is just one example of KPSS. Teachers who cannot be named are just one example
I SAID 'NO' DESPITE ERDOĞAN'S PRESSURE ON ME
"If there is inflation in Turkey, the most important reason is the explosion in the exchange rate. The explosion in the exchange rate has also destroyed the independence of the Central Bank and Mr. Erdogan has managed the Central Bank alone The Central Bank became Erdogan's Central Bank "Download" He says, downloads, says "loads", puts, sells "sells money". What happened? Let's not look not the reason elsewhere.If the Central Bank was really independent today, if there were really competent and competent people there, this would not happen in the country.
At the same time, I say this as someone who led the economy of this country for 11 years. In 2002, there was a head of the Central Bank before. Appointed for 5 years. Sureyya Serdengeçti. We have seen that his technique is good, so there is no problem. We worked with him for 5 years until Süreyya Serdengeçti completed his term. For example, one could ask for his resignation as soon as the government is formed. He could probably quit. If we had said "it would be wrong", we would have affected the independence of the Central Bank. We said, "If we shake the most fundamental pillar, we can't mend the seam tomorrow." We did not touch. Despite Mr. Erdogan's pressure on me… He said 'Horse, what do you work with, horse, what do you need'. I said no'. Independent central bank. Appointed for 5 years. We can't, we didn't. How have we not? The appointment of the head of the Central Bank was made by decision of the Council of Ministers. All the ministers will sign, the prime minister will sign, the president will sign, only then can you appoint the head of the Central Bank."
CLICK TO RETURN TO THE HOME PAGE

Words that will be an event of Kılıçdaroğlu

Minister Soylu: "I will explain myself in a few hours"

Mother who stabbed her daughter to death in the heart drank acid