Transport and Infrastructure Minister Adil Karaismailoğlu met with construction site workers of Pendik-Sabiha Gökçen Airport Metro Line at iftar.
Thanking the workers for their efforts, Karaismailoğlu pointed out that the easiest, fastest and most comfortable means of urban transport in many parts of the world is the railway system.

"There are 85 kilometers of construction of railway lines"
Explaining that railway systems should be generalized especially to solve traffic congestion in big cities and avoid time loss in traffic, Karaismailoğlu said:
"For this reason, as the Ministry of Transport and Infrastructure, we have implemented very important urban rail system projects in order to facilitate the lives of our citizens, especially in large cities, and to eliminate traffic jams. We continue to build new ones. Until today, 812 kilometers of urban railway lines were in operation throughout our country, of which 312 kilometers were built by our Ministry, 2 billion 393 million passengers were transported annually on these lines.
Currently, there are a total of 185 kilometers of line construction of the railway system in 14 projects under construction by our ministry. 7 of them are progressing rapidly in Istanbul. We plan and implement projects that will reduce the city's traffic problem for Istanbul residents and allow them to travel faster and more comfortably by public transport. We come to Istanbulites with solutions when they need them. Because together we serve our nation with love."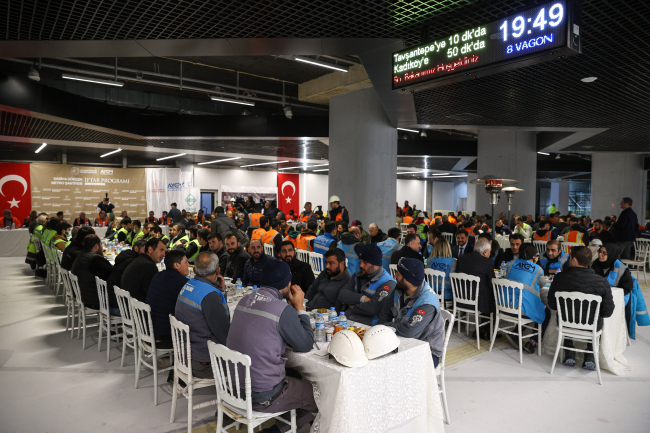 Recalling that the total length of the Marmaray and Levent-Hisarüstü metros is 80 kilometers, Karaismailoğlu said that from now on, work continues on the 103.3-kilometer metro line, which includes the metro line of the Pendik-Sabiha Gokcen Airport.

"Our metro line from Pendik-Sabiha Gökçen airport is about 7.5 kilometers"
Noting that Istanbul's railway network is 263 kilometers, Karaismailoğlu said:
"When our projects are completed, it will reach more than 366 kilometers. In other words, with a length of more than 183 kilometers, 50% of Istanbul's railway network will be built by our ministry and will be put at the service of Istanbulites. Pendik-Sabiha Gökçen Airport metro line, which has 4 stations in total, is about 7.5 kilometers Kadıköy – Our line, which departs from Tavsantepe station of Kartal-Tavşantepe metro in Pendik, will reach the airport international Sabiha Gökçen Our stations are Fevzi Çakmak-Hospital, Yayalar-Şeyhli, Kurtköy and Sabiha Gökçen Airport stations We have now brought our project to 98% completion level To date, 14 We have completed 1,536 meters of installation and welding of rails.
Under the project, we have completed the tunnel construction works by digging a total of 15,000,970 meters of tunnel. We have completed construction and finishing works at 4 stations. We have increased electromechanical manufacturing to 95%. We have started testing and commissioning of test drives and metro electromechanical systems. We are counting the days to offer our line at the service of Istanbulites. We are silent, our actions speak. We will continue to work with the same enthusiasm 24/7 until the day we finish all productions and open our line. And I hope that with the completion of the signaling and safety tests of the system, we are endeavoring to present this project to the service of Istanbulites no later than August."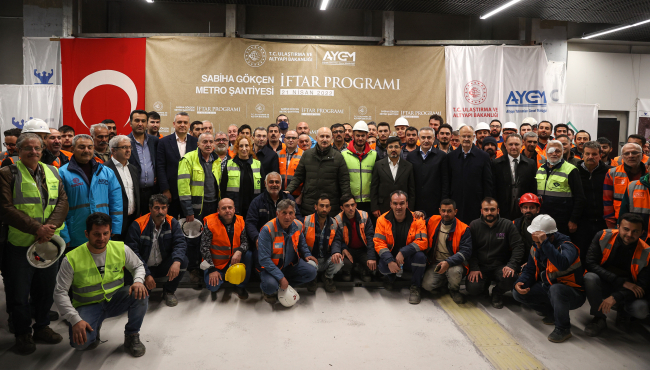 "Our nation knows very well who brings water and breaks the jug"
Minister Karaismailoğlu also gave information on the economic gain in 2023-2045 with the completion of the metro line.
Karaismailoğlu said that 148 million euros will be obtained through time savings, 31 million euros with reduced road maintenance and operation costs, 302,000 euros with reduced accident costs and 1 million 710,000 euros in total of their contribution to the reduction. in air pollution, water pollution and carbon emissions. He said even this painting alone is the best indicator of who is working for Istanbul in real terms.
Karaismailoğlu said: "Because a lot of discussions don't work. Is it ingenuity to open metro lines and operate them with the latest technologies, or to close open lines with excavations? We look at our company, our nation, the people of Istanbul. Since 2003, we have been implementing megaprojects that will carry our country into the future. Our nation. He knows very well who brings the water and who breaks the jug. He also sees the gap between the two mentalities. On the one hand, we, who see service to the public as service to God, on the other hand, we are those who drag Istanbul to failure with unqualified cadres."