Motorcycle and bicycle enthusiasts eagerly await "Motobike Expo Motorbike, Bicycle and Accessories Fair" open. The most expensive engine at the fair was the Mv Agusta Rush 1000 model worth TL 1 million. Famous runner Kenan Sofuoğlu created colorful images with his son.
Turkey Motorcycle and Bicycle Show, "Motobike Expo Motorbike, Bicycle and Accessories Fair", open. At the fair, which could not be held last year due to the corona virus outbreak, the most expensive engine this year was the Mv Agusta Rush 1000 model worth 1 million lira . The MV Agusta Brutale 800 RR model, on the other hand, was only produced for the fair and the engine was priceless. At the same time, the interest of Zayn Sofuoğlu, the son of the famous Turkish motorcycle racer Kenan Sofuoğlu, in motors, his handling and driving created colorful images.
Sofuoğlu, famous motorcycle driver, "We used to come with my father, now I come with my son. We have the same feelings" mentioned.
"MOTORS WILL NOW USE THE EURASIA TUNNEL"
Famous Turkish motorcycle racer Kenan Sofuoğlu, "I think the show will have a great guest this year, especially on weekends. There are many beautiful new motorcycles. I am also one of those who look at motorcycles with curiosity. But I think the biggest surprise of the fair came from our Minister of Transport and Infrastructure. It's still in the news what bikers suffer on bridges and in bad weather.
I explained this situation to our minister and he said in a short time like 1 week, "we will equip all regions of Turkey with barriers and now we are opening the Eurasia tunnel for motorcyclists". Hopefully, before the holidays, motorists will now use the Eurasia tunnel. We are talking about an industry that attracts millions of users.
Maybe it was news that interested 10 million people. Investments in barriers and motorcycles are very important. In this sense, as a biker, the fair and the new good news made me very happy. Years ago, my dad used to take me to car shows. Today I came with my son, but ours is a little fast, he took an engine that was running at full speed" makes a statement.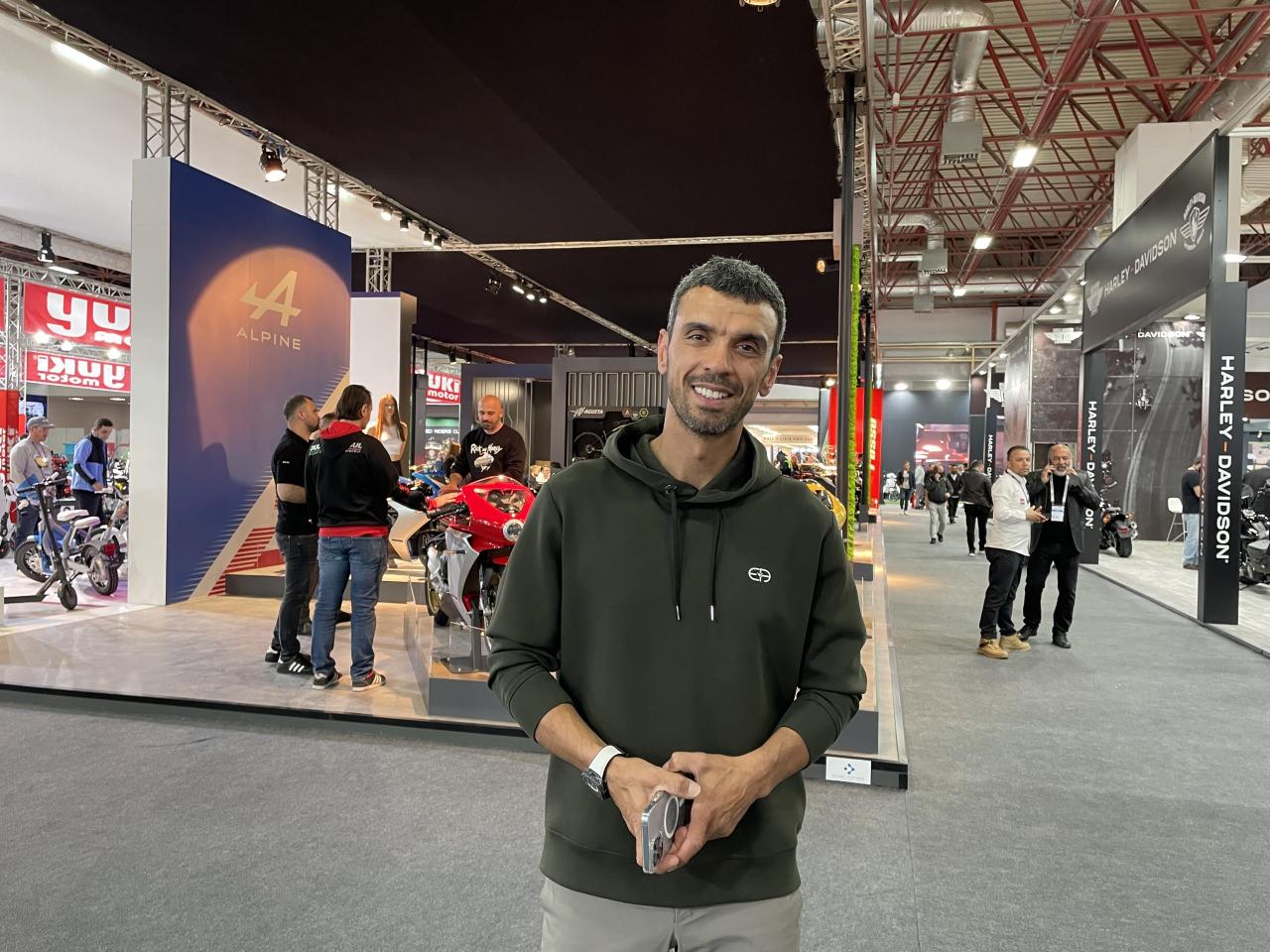 "CURRENT PRICE 1 MILLION LIRE"
Doru Uncu, the after-sales service representative, "Our engine is the Mv Agusta Rush 1000 model. It's an engine specially produced by the factory itself, of which 300 come here every year. Its current price is 1 million lira in Turkish currency. It is currently one of the most popular engines on the show. We already have the most beautiful and largest stand at the show. So there are really a lot of people since 9:00 in the morning. mentioned.
"WHO EVER WANTS TO GIVE AND HOW MUCH WILL GET"
Doru Uncu also spoke about the engine which was produced exclusively for the fair and which is priceless. "The reason the MV Agusta Brutale 800RR is special is that we bought it ourselves, carbonized it and turned it into a custom bike with special parts. That's why we didn't fixed price. A special engine, we have already built one. Whoever wants to take and give how much will go. There is one in the world" mentioned.
"OUR ATHLETES NOW COMPETE ON THE TRACK EVERY WEEK"
Mahmut Nedim Akulke, vice-president of the Motorcycling Federation, "The Turkish Motorcycle Federation is a sports federation under the Ministry of Youth and Sports. It has nearly 40 national competitions and nearly 10 international competitions. We will organize the European Junior Championship, the Eastern European Championship and the Turkish Championship, one of our closest competitions, in Edirne on May 20-21.
After this championship, we will organize one of the biggest sports organization that Turkey has held for 4 years, under the auspices of our presidency, as the Motocross World Championship in Afyonkarahisar. It will run from August 31 to September 4.
One of the reasons this is such an important and meaningful race for us is that we are proud to be part of the 100th anniversary of the Great Offensive on the lands where victory was won. There are now Turkish athletes in all international competitions. Our athletes now compete on a track every week. An amazing young army is coming" makes statements. The Motobike Expo motorcycle, bicycle and accessories trade show will keep its doors open to motor enthusiasts until April 24.