Health Minister Fahrettin Koca met with medical school students at Adıyaman University lecture hall. "As long as the doctor, healthcare worker does not act intentionally, he will no longer pay compensation for problems that may arise from the treatment he has applied. Minister Koca said, "The problem of malpractice is radically solved" makes the statement. On the other hand, Minister Koca said he wants to limit the shift from 36 hours to 24 hours.
"RIGHT NOW"
Stating that medicine is also an art of communication, Koca said, "It is not a simple task to get a patient to tell their story. The dominance of regional culture, knowing people in their social aspects is a distinct advantage in medicine. I believe the practice of medicine here has such baggage." mentioned.
Expressing that he is aware of the shortcomings of the faculty and will do his best to correct them, Koca noted that they have started traveling from city to city and discussed the issues at medical faculty meetings.
Expressing that under current conditions, perpetrators of violent crimes do not constitute a high rate of pretrial detention, Koca continued:
"It's a very legitimate complaint. Because we have a demand for justice. We know that advanced justice has the power to overcome all our problems. However, given the current situation, let's not judge justice as some union structures or even teachers do. . The judge and the prosecutor act with the law before them. Here, the legislation that will make detention possible and necessary in many violent incidents is being drafted. Know that the question is not a question of initiative, it is a question of It is a question of right. With the law and the rehabilitation of the health system, we will eliminate violence from occupational risk. We will soon put an end to the malpractice nightmare. "Young doctors who say 'sister' or 'sister' will not go through the same conditions. You, on the other hand, may have only felt the fear of it. The violence is more intense in certain areas. We know that this is related to social and cultural factors.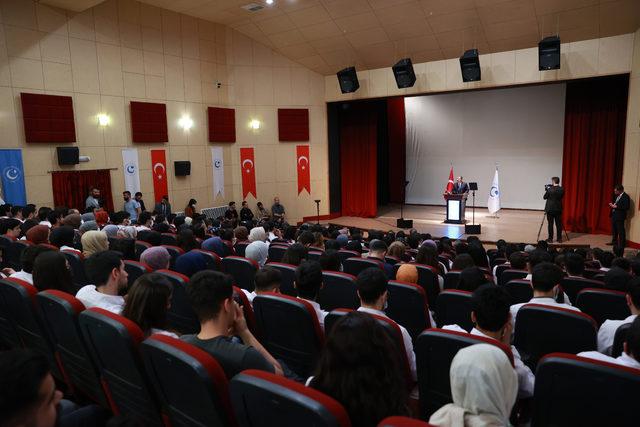 "The problems are grouped under 5 headings"
Stating that issues faced by healthcare professionals will be resolved through dialogue, Koca said, "Our main issues are grouped under 5 headings. Loss of dignity of the profession, violence, malpractice, negativities arising from personal rights and the work environment, especially wages. The loss of dignity in our profession is a problem related to all the problems I have mentioned. But "it is not only a problem caused by them. The loss of prestige has a lot to do with social change, with aspects that go back farther than the current problems. The medical profession has not been able to offer certain privileges to new generations for a long time. he said.
Minister Koca said that the issue of the dignity of medicine must be understood correctly and continued as follows:
"Reputation pegged to a raise, like money, melts easily. Respect is not a matter to think straight. In my opinion, it is tied to essence. dignity which is not due to someone else is not lost. If we look at it that way, we see that the elevation of our dignity depends on us in many ways. If we look at it that way, we know the judges and the prosecutors as our associates, not as our competitors. You do not know the harm done to us by the language of comparison developed by certain friends against the judges and the prosecutors. The reputation is incomparable.
"There is an effort to obscure the light of a revolution"
Noting that the problems of health professional groups are Turkey's problem with its 85 million people, Koca said:
"No one can say that tackling these serious issues is less important and worth less effort than fighting the epidemic. As someone who has shouldered both responsibilities, I know that best. But I am a bit of a complaint against you. Some of you are not aware of the measures taken against violent crimes. "Do we know the full meaning of the regulations adopted by the justice commission? Intentional injury will now be a crime much more serious in terms of criminal prosecution Inclusion of the crime in the scope of "catalogue crimes", detention It will become sufficient grounds for a revolution It is grouped under the same heading as the crime of injuring a health worker, murder deliberate, torture and incitement to suicide.There is an effort to obscure the light of a revolution.
"DOCTORS NO LONGER PAY INDEMNITIES"
The evolution of malpractice should have been celebrated with a second Nowruz. Most of our friends don't even know it. I understand this from the questions asked in the places I go. Legislation on malpractice cases has been passed by the Justice Commission. What is the essence of the malpractice bill? Doctors will no longer pay compensation for problems that may result from treatment, unless the health worker acts intentionally. The malpractice problem is resolved radically. That's the gist of it all."
"WE WANT TO LIMIT 36 HOURS OF STANDBY TO 24 HOURS"
Giving information on human rights, particularly salaries, Koca said: "Make sure I understand you very well. For this country to give its intern, general practitioner, assistant doctor, medical specialist a salary that has no pocket money, "liracik", but that he will not worry about living. I want you to know that I am doing my best. The seizure problem is a problem that requires a full initiative, but whose solution is beyond the will in the current conditions. The 36-hour shift is far from human. It is a very heavy load. We want to limit the working time to 24 hours maximum. And we are aiming for a fair wage regulation expressions used.
Source: AA
CLICK TO RETURN TO THE HOME PAGE

The masked ski attackers were terrified! A 10-year-old boy was also shot

Minister Kirişci drew attention to these dates! will be prohibited

The same ones used in the Bursa and Gaziosmanpaşa attacks…