class="medianet-inline-adv">
President Recep Tayyip Erdoğan visited Mimar Sinan dormitory in Maltepe and had an iftar with students. During the program for breaking the fast to President Erdoğan, Minister of Youth and Sports Dr. Mehmet Muharrem Kasapoğlu accompanied him.
"OUR GOAL IS TO LEAVE YOU A GREAT AND STRONG TURKEY, WHERE YOU CAN ACHIEVE VISION 2053"
Speaking at the fast-breaking dinner, President Recep Tayyip Erdoğan said: "Our school life has taken place in a very turbulent and troubled period in political, social and economic terms of Turkey. On the one hand, tensions and ideological fights, on the other, we tried to complete our education under the pressure of the September 12 coup, in addition to misery and misery. Our children have continued their education and training under the shadow of both the instability caused by coalitions and the political and social unrest in which guardianship has shown its ugly face. I will never forget the hardships of my daughters in particular and the ordeal we went through to overcome them. The mothers of our daughters used to wait at the school gates to pick up our daughters. On one side, the police, on the other, the mothers of our daughters. You, on the other hand, are a generation that was most eye-opening during the AK Party era. You have seen and recognized our country and the world through the works and services that the AK party has brought to our country. In this process, you have of course witnessed the various trials that our country has gone through. You remember the events that took place over the past 7-8 years, especially the July 15 coup attempt. On the one hand, Turkey has worked day and night to close the gaps in democracy and development of the past two centuries, on the other hand, it has come to the present day by combating these new threats. We have worked very hard to achieve our country's goals for 2023 that we announced to our nation 11 years ago. We have overcome many obstacles, produced many works and services. Our goal was to leave you a big and strong Turkey where you can achieve the 2053 vision. . Some may speak differently, but I call this youth Teknofest youth. Because you are now reading space. Now you calculate the complete arrangement of the spaceship that this nation or youth will send into space and make preparations for them with these calculations. We are proud of the achievements of our young people in all fields, from technology to literature, from sport to art, beyond the borders of our country.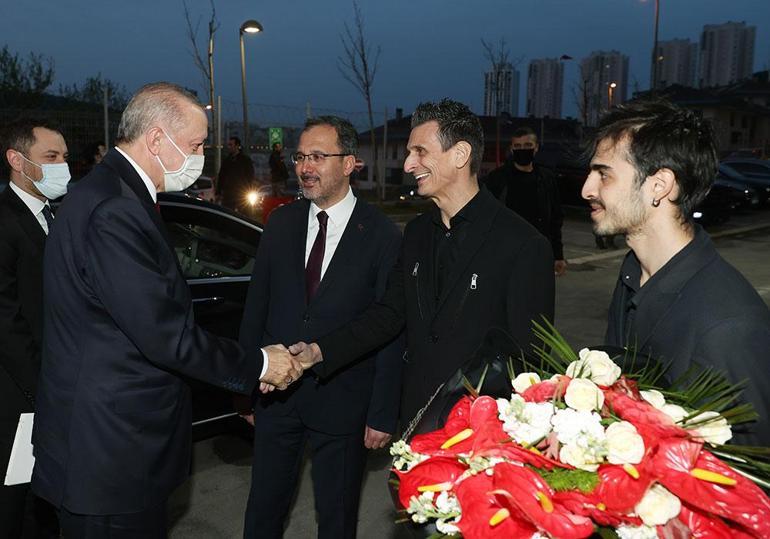 "THE SPIRITUAL SPIRITUALITY OF ALL THESE MARTYRS WILL PAY THE PRICE FOR THEM IN A DIFFERENT WAY"

Speaking about Operation Claw, President Erdoğan said: "In the past, the country that divided these young people as sometimes right-wing, left-wing, Turkish-Kurdish, sometimes progressive and reactionary, could not resist the games that wasted the potential of the country. . But we have no such distinction between Turks, Kurds, Laz, Circassians and Georgians. What do we have? We only love the created, it has understanding because of the Creator. In the same way, the losses caused by the terrorist organizations targeting our youth as much as the PKK FETO, robbing them of their years and their dreams, have cost our country dearly. Thank God, as you know, Operation Claw is currently underway in northern Syria and northern Iraq. As of 13.10 today, 45 terrorists have paid the price and our commandos are entering all the caves and caves, the search continues. This number will increase further. But we have 3 martyrs. I hope that the spirituality of all these martyrs will make them pay this price in a different way. Our greatest service to Turkey is that, whatever the conditions, whatever the scenario, we will never give up the policy of work and service, and we will help our country achieve its goals. As bloody wars unfold in our south and north, and global, political, social and economic crises are at their peak, we will continue our journey without ever derailing Turkey's 2023 and 2053 vision. I hope that tomorrow, when you take the trust from us and take responsibility for running the country, you will move towards much bigger goals on this solid infrastructure.
President Erdoğan played table tennis after the fast-breaking dinner with the students staying at the Mimar Sinan Dormitory.class="medianet-inline-adv">
"IT IS A SKILL TO BUILD SUCH BRIDGES"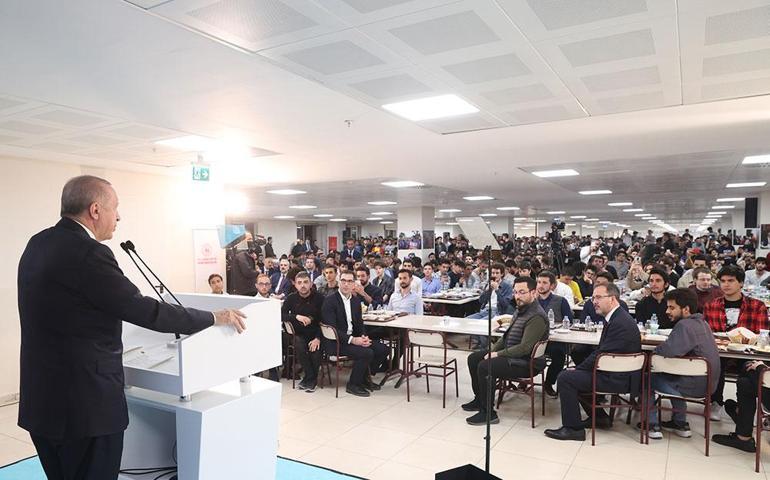 Talking about the services and works performed, President Erdoğan said, "Many of you may not be particularly familiar with many services and works. You don't know the beginning and end of the Yavuz Sultan Selim Bridge. You don't know the beginning and end of Osmangazi Bridge. Maybe you don't know the start and end of Istanbul Izmir highway. When you departed from Istanbul to Izmir it was 6-7 hours when you look at the kilometers for hours, but now it's 3 hours Istanbul Izmir. We can walk that distance. Similarly, the Çanakkale Bridge of March 18 is a first in the world, we have succeeded. We ended up with 2.5 billion euros. How did we end this? We are done with the build-operate-transfer approach. In other words, it was over with the credit brought in before the money came out of our safe. They will operate this place for a while, the contracting company being Korea and Turkey, and then they will deliver it to Turkey itself. It's a tribute. Those before us could have done it, why didn't they? They don't have such bridges and overpasses anyway. Not long ago, a brother from Şanlıurfa was at my table. There is Nissibi Bridge between Şanlıurfa and Adıyaman, but maybe you didn't cross this bridge. Building such bridges is a skill. We achieved it," he said.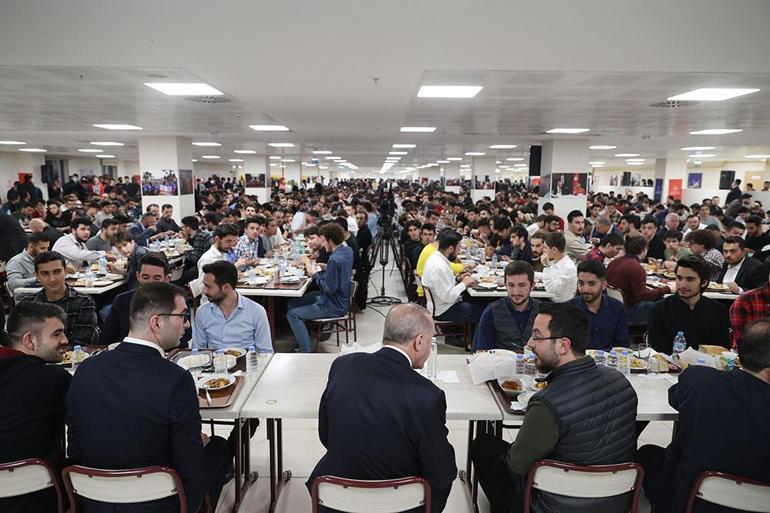 "WE WILL DEPOSIT SCHOLARSHIPS AND LOANS TO ACCOUNTS ON MAY 25"

Continuing his speech by saying, "We made a promise to our nation when we came to government," President Erdogan said, "We said that we will elevate our country on 4 basic principles or 4 fundamentals. Education, health, justice, security. If you notice, we put education first. In our country, there was a crowd at the gate of the university, which was incredible. When we entered, 1 out of 10 students entered, now we don't leave 10 out of 10 students open. We have increased the number of universities from 78 to 207. Currently, there is no province without a university. So it came to those who know business and wield the sword. We now have universities in every province of our country. I was in Hakkari last week, we left without notice. We had our iftar there with our soldiers. After that, we entered the city center from Yüksekova. We saw that, mashallah, the teachers and the young people are all sitting there in a pastry shop. We sat next to them. We had a great evening with our teachers and the young people. By increasing the number of our academicians from 70,000 to 182,000, we have eliminated this backlog. Today, our university quota and the number of high school graduates are almost the same in our country. Our young people are now competing not to enter a university program, but to establish themselves in the department they want. Someone says there is no dormitory. We have increased the number of our dorms from 190 to 778 and the capacity of dorms from 182,000 to 747,000. If you ask Mr. Kemal, he says there is no dorm. Not only that, we also support our students with all kinds of opportunities, from nutritional aid of 750 lira per month to the Internet. We provide scholarships or loans of 850 lira to each of our students so that none of our children are left behind in education due to financial impossibility. This figure rises to 1,700 TL for the masters and 2,550 TL for the doctorate. We have 1,374,000 students who received loans or grants this year alone. We made these payments every month between the 6th and 10th of the month. We will deposit loan and grant installments for the month of May starting on the 25th."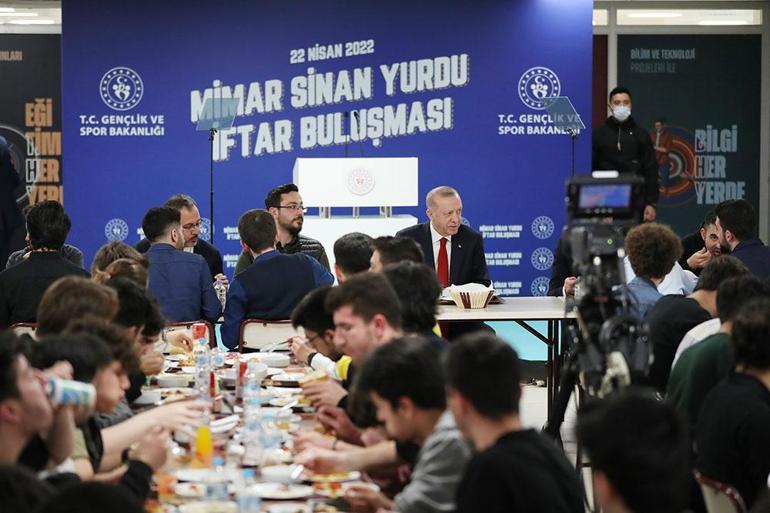 "THE GREATEST STEPS IN OUR HISTORY WERE TAKEN DURING OUR MANDATE, ALSO IN SPORT"

Speaking about the services provided in the field of sports, President Erdoğan said, "We offer you services in many different fields with our 399 youth centers, 299 youth offices and 43 youth camps in 81 provinces of our country. The greatest sporting breakthroughs in our history have taken place in our time. We have equipped the four corners of our country with a total of 4,126 facilities, from football pitches to athletics tracks, from swimming pools to sports halls. Of course, it would be a shame not to mention the indoor gyms. Thus, the number of licensed athletes has increased from 278,000 to more than 11 million 300,000. In our schools, we have trained about 2 million of our children in sports skills. I hope you continue where we left off," he said.