President Recep Tayyip Erdoğan sent a message to the Patriarch of Armenians of Turkey, Sahak Mashalyan. President Erdoğan, commemorating the Ottoman Armenians who died under the harsh conditions imposed by World War I, said: "Once again, I respectfully commemorate the Ottoman Armenians who died under the harsh conditions imposed by World War I. , and send my condolences to their surviving parents. It is a pleasure to share this common pain without discrimination. It is a duty of humanity (…) The last years of the Ottoman Empire, which corresponded to the First World War, were a very painful period for millions of Ottomans. It is a duty of humanity to understand and share these common pains without any religious, ethnic or cultural discrimination." It is important for us, who are partners in the conflict, to heal the wounds of the past and to strengthen them with this understanding, I believe we should build the future together, inspired by our deep-rooted unity for up to a thousand years, instead of exacerbating the pain.
GARO PAYLAN DE HDP OFFERS IT TO YOU!
As President Erdogan makes such a statement, steps are taken to use the events of 1915 for provocative purposes. For example, HDP Diyarbakır MP Garo Paylan, who supported the events of 1915, submitted a bill to parliament for the recognition of the so-called genocide, and this proposal was met with a reaction.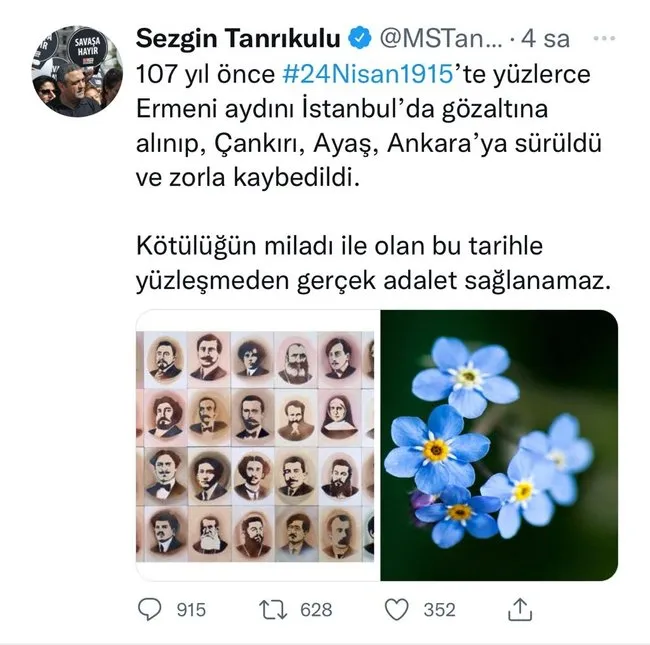 THIS TIME, CHP'S SEZGIN TANRIKULU TAKES THE PROVOCATION!
As the backlash against Garo Paylan continued, this time Istanbul CHP MP Sezgin Tanrıkulu tried to provoke. Tanrıkulu posted a message on social media regarding the events of April 24, 1915. In his statement on his official Twitter account, Tanrıkulu said, "107 years ago, on April 24, 1915, hundreds of Armenian intellectuals were detained in Istanbul, deported to Çankırı, Ayaş, Ankara and forcibly disappeared. this date, which is the beginning of evil."
"IF THIS LAW HAS NOT BEEN ACTIVATED, MAYBE YOU WILL NOT LIVE NOW… EL İNSAF SEZGİN, EL İNSAF!"
After this provocation and this provocation of Tanrıkulu, there are also those who reacted on social networks. Reacting to Tanrıkulu, a social media user named Sevim, he said: "Armenians massacred Kurds, Mr. Sezgin. And you know it very well. Because they killed them, the Ottoman government was forced to enact the Deportation (Forced Immigration) Law in 1915. If this law wasn't enacted, maybe you wouldn't be living right now. . Hand insaf Sezgin, hand insaf!" mentioned.
"BUT CHP DON'T WATCH THIS"
A social media user named Murat S. reacted as follows: "Isn't that something, the CHP MP who claims to be Atatürk's party? There may be such rots in every party, but the CHP makes no noise about it.
"IF YOU DO NOT BELIEVE, THERE ARE PARTIES THAT SUPPORT YOUR CLAIM. GO TO THEM"
Social media user Teoman Kızıltaş commented on Tanrıkulu's post as follows: "You are a human rights defender, you say you have tolerance, you have no branch to hold, Sezgin Tanrıkulu. If you don't Don't believe, there are parties that support your claim. Go to them.
"My CHP deputy, whom I voted for 32 years and considered holy, can't say that! I STRONGLY CONDEMN!"
A social media user named İbrahim Dönmez said: "It is clearly written in the history of the Ottoman Empire and the Republic. It is inscribed in the parliamentary archives and in the memoirs of the Great Leader Ataturk. What to face, my dear deputy! Me, the Deputy of the CHP, whom I voted for 32 years and considered sacred, I cannot say that! I strongly condemn it!" mentioned.
"THESE THINGS OCCUPY ATATÜRK'S PARTY. IT'S WORTH IT ! »
Social media user Serhat Işık, who wrote on Twitter that he was a member of the Fatherland Party, said: "This is what invaded Atatürk's party? Shame on those who still do not react, who consider themselves patriots and Kemalists.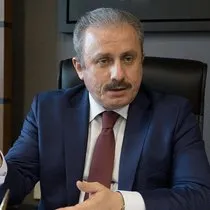 last minute | Parliament Speaker Şentop's reaction to Paylan's provocation of the HDP in 1915…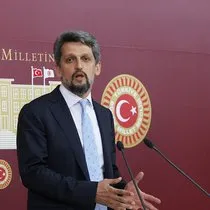 Altun's reaction to the HDP's Paylan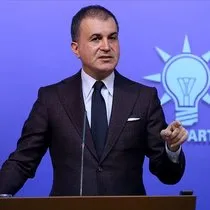 Last minute! The reaction of the AK Party Çelik to the "1915 provocation" of the HDP Paylan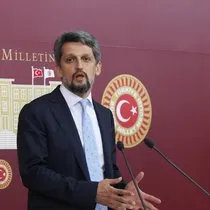 HDP's immoral offer is back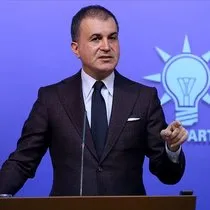 Last minute! The reaction of the AK Party Çelik to the "1915 provocation" of the HDP Paylan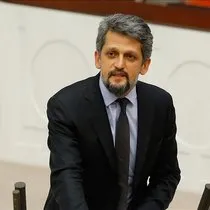 HDP's Garo Paylan submitted a bill to Parliament for the recognition of the so-called Armenian Genocide