Minister of Industry and Technology Mustafa Varank met young people to discuss the solar system in Konya and announced that they would welcome them to the TEKNOFEST sky-watching festival in Azerbaijan to boost their knowledge.
Minister Varank opened the Capsule technology platform in Konya with the young people who responded to the social media invitation.
Stating that they laughed at them when they announced that they would establish a science center in Yozgat, Varank said, "We are going to equip every part of Anatolia with science centers and we want to pave the way for all our young people to adapt to science and technology. ." mentioned.
OPENING WITH 300 YOUNG PEOPLE
After the Karaman program, Varank wrote on his Twitter account: "Precious young people of Konya, I am leaving Karaman now. I want to open a very special place with you. Let's meet at the Capsule Technology Platform in Zindankale. shared it.
Less than an hour after the message, nearly 300 young people gathered at the center.
"YOU ARE OUR FRIENDS"
Varank, who opened the Capsule Technology Platform Zindankale Campus, which was established as part of the Konya Metropolitan Municipality, with the youths, then answered questions from the youths.
Varank said they consider the youth as the greatest companions in building the future Turkey and said that as a ministry they are carrying out intensive youth programs and activities.
Stressing that the center, which has been opened, is expected to be filled with young people, Varank said, "This place will be open 24 hours a day. Young people can do their projects here and benefit from the labs. nothing, they will sit on the sofas." used the sentences.
Minister Varank, at the invitation of a student from Anatolia Vocational and Technical High School ASELSAN Konya, said: "I hope we will come there one day. ASELSAN has pioneered a visionary enterprise here. is significant in establishing the Vocational and Technical High School of Anatolia School in Ankara and Konya. It has taken a step forward. It has also made a very serious investment in the Technological Industrial Zone of Konya. The most important products of the "Defense industry that Turkey needs are manufactured in ASELSAN Konya. It has different plans for the coming period. More value-added and technological products are there. There are plans to develop it." he said.
Noting that in this way, young people who study in vocational high schools and universities can find a job more easily, Varank continued his remarks as follows:
"As a continuation of this step, we also have infrastructure we want to bring to Konya with TÜBİTAK. We will bring here 1-2 technology centers from TÜBİTAK. Besides, we are planning to bring 2 infrastructure to Konya in industrial zones which are not currently being produced. Here, TÜBİTAK's company presence will both contribute to the economy of this city and we will have signed high-tech works with our industry."
Varank then met Hasan Hüseyin Karaoğlu, Furkan Şaban Sarı, Nurullah Yıldız and Murat Seyit Kağnıcıoğlu, whose discussion of celestial body movements went viral on social media in 2020.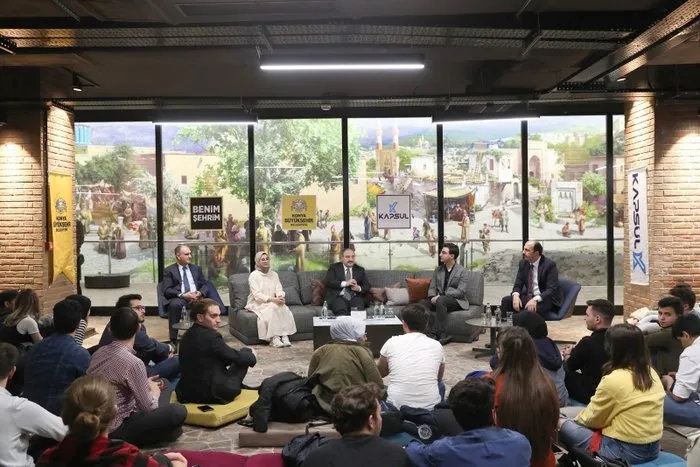 "WE CAN GIVE A SEMINAR"
Kağnıcıoğlu said that in the video taken 2 years ago, the discussion started on a subject far from astronomy, then came to celestial bodies and their movements.
Varank asked the youths, "Isn't it good that Konya Science Center taught you the truth?" He asked. In response to Sarı's response, "We are now able to give seminars on this topic." It made people laugh.
that of Varank; "Let's take you to TEKNOFEST in Azerbaijan, but first tell us how the seasons are formed?" young people still said to the solar system. "You have to learn a little more," Varank said. Saying this, Şaban Sarı said, "He is fully seated in Azerbaijan now." he has answered.
Giving statements later, Varank said: "After this video, these young people went to Konya Science Center to learn the truth and the truth about this matter. They learned how the seasons are formed there. There had small abductions from time to time. We will take them to TEKNOFEST for a better understanding of the subject. There. "We will find the sky. We have sky-watching festivals. We will also welcome these young people here. We will observe the moon, stars and planets together. We will talk about astronomy and strengthen our knowledge." he said.
"THIS IS THE SPIRIT"
Recalling that he announced that they will establish a science center in Yozgat, Varank said, "They are laughing at us. Unfortunately, they don't think that our young people in Yozgat can be interested in science. However, we will equip every part of Anatolia with science centers. We want to pave the way for all our young people to adapt to science and technology and be able to operate in these fields." mentioned.
Varank had a video chat with the students of Kadınhanı District Vocational School on the mobile phone of the Mayor of Konya Metropolitan Municipality, Uğur İbrahim Altay, who accompanied him on the visit.
Varank said he dominates Konya's culture, loves the city and considers himself a fellow Konya citizen.
Metropolitan Mayor Altay also presented the "Konya Honorary Citizenship Certificate" to Minister Varank.