Baris ERKAYA
The balance sheets are published. Borsa Istanbul, on the other hand, gave its first serious reaction to the global downside on the last day of last week, and started the new week directionless. The initial reaction after the decline is not exactly one that confirms an upward reversal. However, when it comes to valuation, whether the BIST-100 index has started to trend up again or not, there is no denying that the Turkish stock market is cheaper than water compared to its international counterparts. The only obstacle for the prices to find their way is the fact that the Turkish economy has not been able to promise a growth story again. If this happens, Turkish stocks will be one of the most attractive options not only for domestic institutional and individual investors, but also for international investors who will find it difficult to find a profitable instrument on a global scale in the near future. coming. The most important thing so far is business growth and profitability.
In this regard, the results for the first quarter of 2022 announced today are very important. Experts say the data from these balance sheets, which give early signals of when the pandemic is slowly starting to slip off our agenda, can have a significant impact on company valuations, namely stock prices.
HIGHLIGHTS OF THE FIRST ASSESSMENT
In view of the first quarter balance sheets announced, the profitability of almost all companies continues to explode, with the exception of a few real estate companies. While there were big jumps in earnings for stock market-focused companies such as investment trusts and brokerage houses, the first signal of high profitability in banks came from Garanti Bank's balance sheet. , and the signal of high profitability in automotive companies was received by the balance sheets of Anadolu Isuzu and Türk Traktör.
Reports will continue to arrive in the coming days. The question is, how much of the high earnings to be announced has been priced in with profitability expectations already formed?
ATTENTION TO PURCHASES WITH PROFITABILITY!
We compared the results of Rasyonet's survey of 21 brokerages with Foreks' survey of 18 institutions, and omitted company earnings figures that few institutions made estimates. By consolidating the first quarter 2022 earnings estimate with 4 quarter back data, we have reached an annualized earnings estimate figure.
This data provided us with data for the price/earnings comparison, which only makes sense with annual data. Of course, past data is not indicative of future data. However, it is a fact that it reveals important results in terms of comparisons.
It should be noted that the stock prices of many companies have risen over the past 3-4 months in anticipation of high profits. For this reason, we have retrospectively averaged the price/earnings figures for 4 quarters to see to what extent the expectation is reflected in the price.
Accordingly, it should be remembered that earnings expectations are already priced into most companies, most of which are included in the BIST-100 index. However, it seems that some companies are maintaining or even increasing their profitability, but past price data shows that this expectation is not valued enough.
THESE PROFITS CAN ALSO DRAG THE INDEX
The estimated total annualized profit of 34 listed companies is TL 164.572 million for the period 2022/03. The current market value of these companies stands at 743 billion 595 million TL. This corresponds to a price/earnings level of 4.52, based on a total of 34 listed companies. However, the current price/earnings ratio of the BIST-100 index is slightly above level 9. In other words, the f/k average of these companies is almost half of the market average. This means that if these expected earnings materialize, the average price-earnings ratio of the BIST-100 index will decrease even more. A scenario in which the Turkish stock market will become even cheaper… In this case, two things can happen: either prices will go up and catch up again with the f/k average, or they will continue with a depreciation process that they did not have not seen in the history of the BIST-100. We'll see what happens together.
How are price/earnings data interpreted?
In its simplest terms, price/earnings data is a valuation multiplier that shows how many years companies have a market value equal to their earnings. In fact, it can reveal important results in terms of comparison with past prices. For example, let's say a company has traded in the market with an average f/k ratio of 5 over the past year. For example, when the profit of the company increases by 50%, the f/k ratio of this company will have decreased to 3.33 while all other data are constant. However, if the company's prices tend to follow this profitability performance, the company's shares need to gain 50% to catch up to the 5p/k average again. Of course, as just pointed out, this is ceteris paribus, that is, an assumption made when all other variables are constant. Another variable that can reduce profitability can completely change this assumption. This makes it necessary to follow very closely all the developments of the invested companies.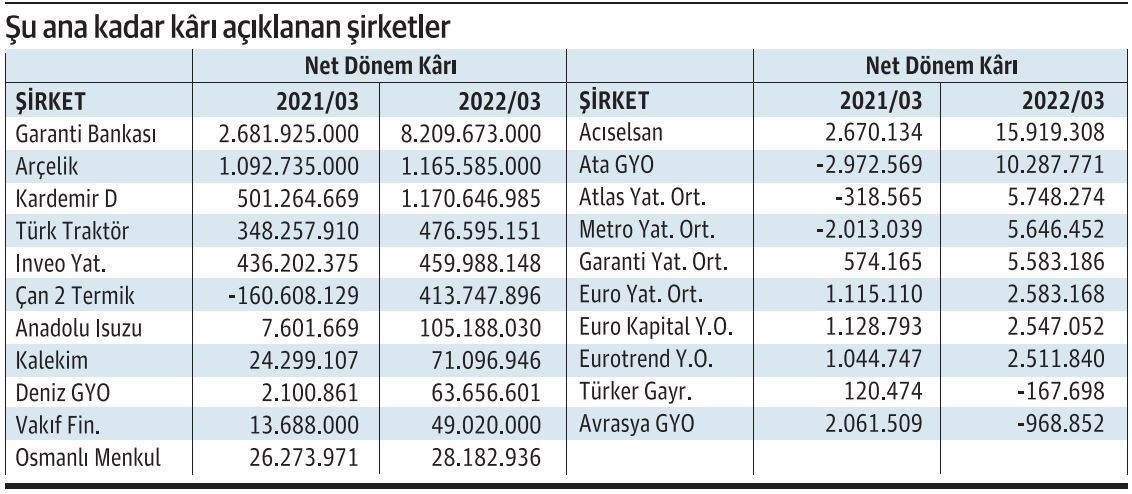 High expectations vis-à-vis banks and holding companies
When we look at earnings forecasts and past f/k performance, we can easily see why banking stocks have been so active recently. Bank stocks, which indicate a return to high profitability, have a 10-20% premium potential depending on their expected earnings and past f/k performance. Especially recently, reports from domestic and foreign investment institutions confirm this expectation. Moreover, the holdings that consolidate these banks also have a strong expectation of an increase in their profits. It is believed that this could boost stock holdings in the future. With Kardemir's balance sheet, signals of rising profitability in the steel industry have been received. There is a similar estimate for Eregli Demir Çelik. Apart from that, it should be kept in mind that expectations are rising, especially in cement plants with high cash cycles. Many companies with high earnings expectations are also included in the BIST-100, the benchmark stock market index. This shows that the price of these stocks will have an impact on the BIST-100 index. In other words, as the price of these stocks changes, it has the potential to drag the stock index with it.
INTEREST-FREE CASH ADVANCES
CEPTETEB, the digital banking platform of the Turkish Economy Bank (TEB), offers for the first time to CEPTETEB users who apply for a credit card through the mobile application, the possibility of using interest-free cash advances in 6 monthly installments for their cash requirements up to 3,000 TL. To take advantage of the campaign, which is valid for those who apply between April 8 and May 10, you can make a video call from the CEPTETEB mobile app or https://www.cepteteb.com. It will suffice to be a CEPTETEB member for the first time via the "Become a client" request forms available on tr.
RECYCLED CREDIT CARD
HSBC Turkey is switching to using cards made from 85% recycled plastic in credit and debit cards. Ayşe Yenel, Executive Vice President of Retail Banking and Savings Management at HSBC Turkey, said: "With the change in the production of our cards; We have reduced plastic waste by around 3g per card and carbon emissions by 7g. In this way, we also contribute to reducing our carbon footprint. Accelerating the transition to a low-carbon economy is one of the most important elements of our core strategy, and we continue to implement various projects in this regard. Information such as name, surname, card number written on the front of the card will now appear on the back," he said.
500K DOLLARS INVESTMENT IN KAVAKEN
Re-Pie Portfolio Management has invested in Kavaken, a next-generation startup that develops solutions for the renewable energy sector with a focus on artificial intelligence and machine learning. Kavaken, along with Re-Pie Portfolio, received a total investment of $500,000 from investors such as Boğaziçi Ventures, Osman Arlı, Yağız Gökdemir, Muhammet Kaya, Olcayto Yiğit and Yetik Kadri Mert. Re-Pie Portfolio Management, recent years Getir, Turk. net, Colendi, BinBin, Easycep, Inofab, Musixen, Hasfin, Arvis Games, tipplay studio, Zebra Electronics, Tırport and Hoşyeri have made significant contributions to the Turkish start-up ecosystem by investing in next-generation startups.