class="medianet-inline-adv">
Trabzonspor are one step away from the championship after 38 years of nostalgia. Downtown Trabzon is still standing. Exuberant celebrations had already started a few days before. Hotels in the city were full, although flights increased they could not keep up with demand. Trabzonspor is spoken throughout the city sleeping with football. Trabzon is a football-related city. Football has a deep-rooted past and a solid infrastructure in this city. From the 1920s, the first clubs were created and a very competitive city league emerged. When Trabzonspor was founded in 1967, this rivalry ended and the whole city was squeezed around Trabzon. Trabzonspor has been an ambitious team since its foundation. He achieved his first championship in the 1975-76 season. He rose quickly and became one of the toughest rivals of Galatasaray, Fenerbahçe and Beşiktaş. There are 6 league championships to date, the last championship being in 1983-84. Camia is now preparing for the 7th championship with great excitement and anticipation.
class="medianet-inline-adv">
ALL THE CITY BROWN BLUE
Shirts, flags, pennants and all the accessories in burgundy blue are about to arrive on the black market. Sellers are happy. Almost every trader printed his own flag and wrote a congratulatory message on it. It's not easy, the championship coveted for years is only one step away.
THE CITY IS IN FULL VISIBILITY
I witnessed this great excitement in Trabzon yesterday. Trabzonspor is the only program, from teahouses to stylish cafes. Traders and citizens have adapted accordingly. The city, which sleeps with football on normal days anyway, is now on full alert. It is possible to adapt Simon Kuper's famous phrase "Football is never just football" to Trabzon: "Football is never just football in Trabzon!" The topic is clear in both quick talk and sahur talk. Everyone is waiting for Saturday. Trabzonspor will host Antalyaspor and even if they draw, Trabzonspor will have declared the league.
CAUTION PANTS hanging EVERYWHERE
class="medianet-inline-adv">
One of the places where the pulse of the city beats is the square. The other is the famous Long Street. Who you see, who you ask, the agenda is clear. From the moment you enter the city, you begin to breathe this atmosphere. Flags are everywhere. The city is ready to welcome the guest it has been waiting for for years. The hotels are full. Special precautions are taken for traffic. The only concern is the gun celebrations. Trabzon is also the land of gun lovers. When it comes to football and championships, the use of firearms in the celebration will come as no surprise. But precautions are already taken. With encouragement from the governor's office, a campaign was launched for an "unarmed celebration." Banners were hung on notice boards and cafe windows. We'll see how effective it will be.
class="medianet-inline-adv">
THERE IS AAKIN IN TRABZON
Trabzon is not only the symbol of the city but also of the region in football. The influx from major cities to Trabzon has already begun. They are preparing to celebrate a double party. Flights have been increased. Moreover, the people of Trabzon abroad do not intend to stay away from this enthusiasm. Residents of Trabzon in Germany and other European cities have mobilized; the herd towards the city has begun. Of course, politics, business and the art world are not indifferent. It's not hard to predict that a "giant choir" will form in the stands that day.
WE ALL WERE CHAMPIONS, WE GOT SÖKE SÖKE
Enver Akyıldız is a street vendor. "We are champions every year anyway. We lose with match fixing. We have been waiting for 38 years. We bought it from Soke, we are the champions without tricks or scraps". His neighbor, simit maker Turan Özdemir, is 60 years old. "I also watched the last league game," he says proudly. He was not going to this game. "I'm sick anyway, my heart can't take it anymore," he explains his reason.
class="medianet-inline-adv">
TRABZON HAS NOT SEEN A HOLIDAY SINCE TRABZON
Nevzat Kandemir is 55 years old. "I prayed to see him before I died. I have seen it now, I will see it. We don't have anyone outside, it's good if I say that everyone came. Trabzon hasn't had such a holiday since it became Trabzon," he explains. I also asked Yusuf Ayyıldız, one of the traders, about his latest situation. He said: "Tickets sold out in seconds! Do we need to explain what the atmosphere is? We have sacrificed ourselves to get into the game, we are worried about how we will welcome those coming from Europe and beyond.
I CAN LOVE
Arzu Mazlum, teacher. As soon as I said "Trabzonspor", he started to explain: "I was in İspir before. I brought a lot of my students from Trabzonspor there. We never forgot the disappointment of 2011. Now we are going to make up for it all. I'm going to the game. I don't know if I'm going to pass out, cry or tear up when we get that 1 point. We have always said "this is the year" and this year has arrived!
class="medianet-inline-adv">
DON'T GO WHO HAS A HEART
Young people are more enthusiastic. Mirac Cetinkaya is 18 years old. He goes to every game, but for this game he says, "It's not our turn." His friend Alper Öztürk warns: "A servant of God who does not trust his heart and his strength must not go out on that day, because on that day he will burn.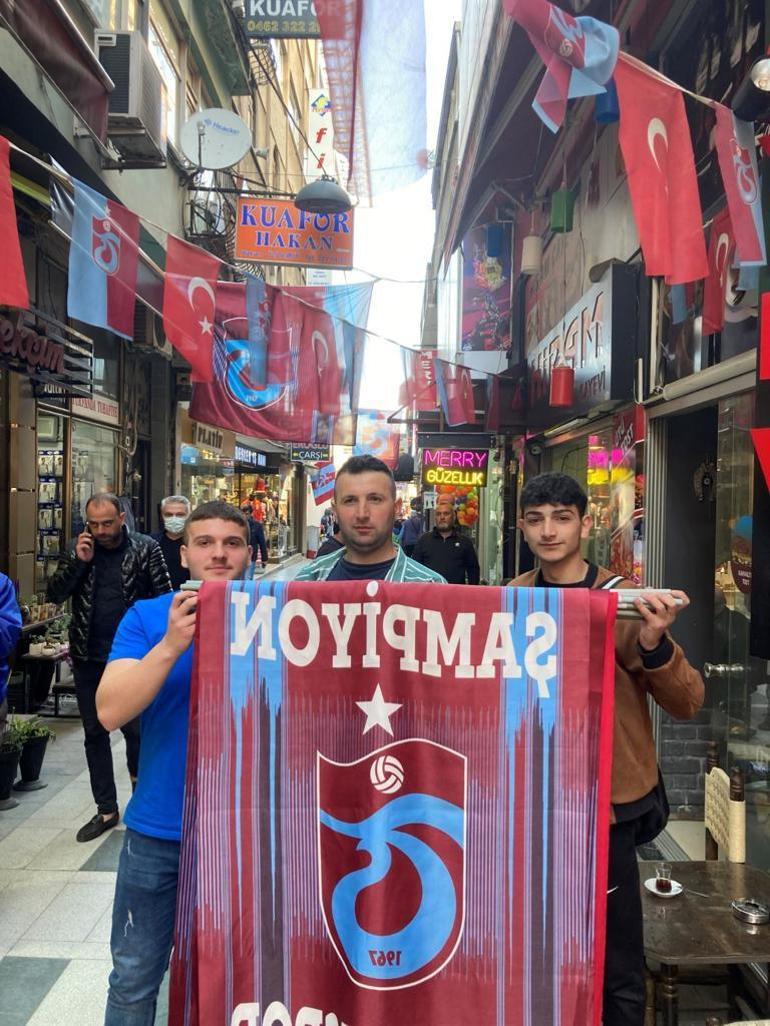 MEASURES ARE IN EXTREME PHASE
The measures for the early celebration of the championship are to the extreme. The process is led by the Governor of Trabzon. The police and the gendarmerie are on alert. Information is updated in meetings that start days in advance. There are special security points at the entrances and exits of the city, as well as checkpoints around the stadium. Special arrangements are prepared for those who cannot enter the stadium and will remain outside.
THE PREMISES ARE COMPLETE AND OVERFLOW
Trabzonspor's love in the surrounding provinces is no less than in the center. It is inevitable that thousands of fans from these cities will come to Trabzon. The Antalya match was sold out as soon as the tickets were released. There is no room even in the lodges. Everyone is looking for an "acquaintance" to enter the Medical Park Stadium. I also witnessed the effort of a couple from Trabzon in Kahramanmaraş to watch the game in the stadium.
NO ONE USES A WEAPON
Temel Emir Demirel, 18, high school student. He will attend the celebrations with his girlfriend Beyza. "We will organize the first celebration at the stadium. We made the plan. After the stadium, we will be in the square until sahur and even until morning. The whole of Turkey will see how the championship will be celebrated," he enthusiastically explains his plans for the celebration.
OUR GENERATION WILL NOT FORGET TODAY
Beyza Yılmaz, on the other hand, worries about weapons. He warns everyone: "There will be a lot of people. Do not use weapons. No one should use it. Let's not lose our fun. We have always waited for this day. Our generation will never forget this day. Fatmanur Alagöz, a university student, is also looking forward to it: "We still have the jersey on us, but now we are officially champions and therefore we are even prouder. Imagine how it would be that day when the place was so crowded even before the championship. There will be an excitement here that no one could have imagined," he laughs.