Director of the University Institute of Marine Sciences and Management Prof. Dr. Cem Gazioğlu and his accompanying scholars made a statement to the press on the general situation in Marmara aboard the marine science research vessel Alemdar-2 belonging to the METU Institute of Marine Science, which is continuing its studies in the Sea of ​​Marmara.
Explaining that they are working as two institutes under the coordination of teams from the Ministry of Environment, Urban Planning and Climate Change, Gazioğlu said, "After the latest hearings and notifications regarding this mucilage, we moved to the south from the Bosphorus since yesterday. After taking our routine stations and measurements, which are known in the surrounding area, we moved to Tuzla." mentioned.
"WE DIDN'T FIND ANY FINDING REGARDING MUSILAGE"
Stating that they traveled to Izmit Bay in the morning and took samples from routine stations from there, Gazioğlu said: "We visited all the coordinates and areas presented to us, indicated or reported, but we were unable to reach any significant features. We also took camera images along the water column at some stations. Frankly, we found no evidence of mucilage here no more.. he said.
INQUIRY IF SEEING IS POLLEN
Explaining that they came across different things, that they cannot be associated with mucilage, and that they will continue to work, Gazioğlu continued:
"There are reports that there are formations there on the islands. We will also visit them, we will take samples, if necessary. From now on, our course will continue in this way. There is problems shared with the public. There are findings that could be pollen. There is a pollen in our university in Istanbul. We have a laboratory, we plan to deliver the samples we collect here as soon as possible. Frankly , the results will be known next week. We are not at the point of saying yes, in this respect as well."
Saying that pollen poses no risk, Gazioğlu gave the following answer to the question about the oxygen level in water:
"First of all, we have to do our admissions a little earlier. The Sea of ​​Marmara is not very well placed. Yes, there is always an oxygen problem. It's a bit of a dream to wait there are a lot of measures, there are a lot of requests, there are a lot of requests. " There is a decision. However, it does not seem very possible that these decisions will be implemented in a year. and for this place to be rehabilitated. It will be a treatment based on many years. However, our oxygen values ​​and what we found are not very good results.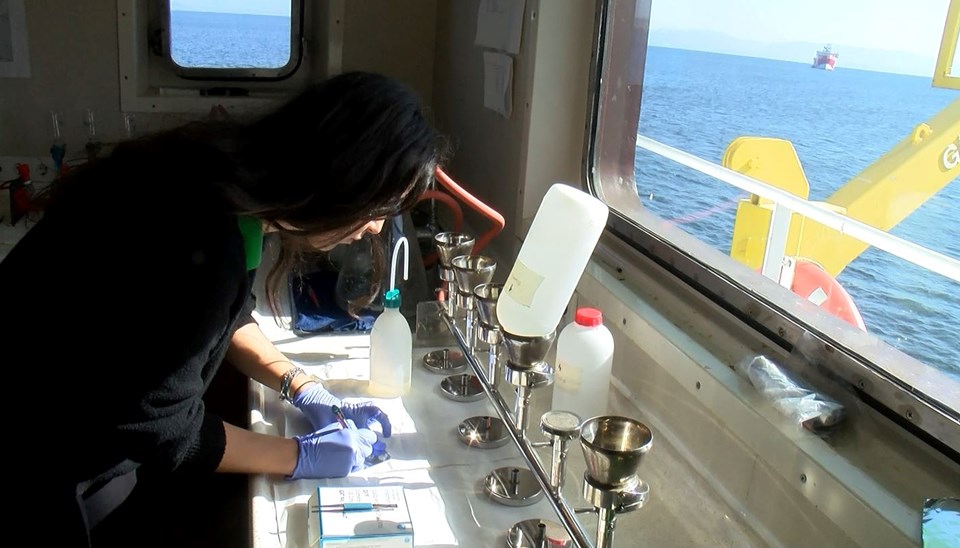 THE OXYGEN LEVEL IN THE SEA IS CRITICAL
Associate Professor of METU Marine Science Institute. Dr. Mustafa Yücel said that experts from the two universities have been visiting Marmara alternately for a year, they have followed the Bosphorus very often, and they have a data set that has been studied in the best way in recent years. .
Stressing that the problem of lack of oxygen is one of the biggest problems in the sea, Yücel made the following assessment:
"Unfortunately, the oxygen is not better than last year. First of all, we have to reveal it. A very serious oxygen deficiency still persists in the Gulf of Izmit. We mentioned it in our statements two or three weeks ago, unfortunately, the bottom waters of this gulf are filled with hydrogen sulfide throughout the year.In a somewhat unlucky place, it is possible geographically and from this point of view, but the lack of oxygen is unfortunately not better than last year. The system is still very serious, loaded with loads of nitrogen and phosphorus, it really must be emphasized. Indeed, the mucilage is seen on the surface , "The sight of pollen is important, of course, our people are very sensitive to these issues. But the invisible elements of the sea are very sensitive and elevated. We actually have to think a bit about how to reduce them.
METU Marine Sciences Institute Lecturer Dr. Hasan Örek assessed the effects of temperature and wind on the emergence of mucilage and said, "According to previous studies, the species that make up mucilage are known to live at a certain temperature. They are usually neither too hot nor too cold. Apart from that, winds have an effect mostly on the movements of water bodies. " mentioned.
Noting that the mucilage would mostly be found in calm waters, Örek said they were trying to build a database to support this in the Sea of ​​Marmara, and would share it with the public when it matures.