Ekrem İmamoğlu, Mayor of Istanbul Metropolitan Municipality, continues his tour of the Eastern Black Sea region. İmamoğlu, who took a trip and met the public in Rize and Artvin today, met with great interest from the public. Imamoglu will travel tomorrow to his hometown, Trabzon.
After meeting the public at Rize Center, İBB President Ekrem İmamoğlu met with citizens of Çayeli, Pazar, Ardeşen and Fındıklı districts. In his speech at Çayeli, İmamoğlu commemorated the late Mesut Yılmaz, one of the former prime ministers. Emphasizing Yılmaz's 'statesman' title, İmamoğlu said, "He was a statesman who knew himself in his childhood and youth and then shared his advice with us from time to time. during this political process. Statesman, statesman… What a precious word. It's very precious to be a state person and to be appreciated by everyone, even if they don't vote. I hope that we too will be known by society as a statesman, a statesman. I hope we are worthy of it. Together we will be worthy.
ÇAYELİ: "THEY ARE MAD BECAUSE WE RUN ISTANBUL BY THE WORD OF THE NATION"
Saying, "We have been an administration open to citizens on all topics for 3 years in Istanbul," İmamoğlu said, "We maintain an understanding that listens to its citizens and produces solutions with them. And everyone is happy in Istanbul. There is more than 60% satisfaction in Istanbul. We measure ourselves every week. Public satisfaction in Istanbul is high. Those who say swear words come to trot on us. The wrong word belongs to the owner. I don't listen to any of them, I mind my own business. You know what their only problem is? It was as if someone had taken their property in Istanbul. Istanbul is the property, the property of our 16 million citizens; even the whole Republic of Turkey… They are mad because we protect the property of the nation and because we govern Istanbul with the words of the nation. But if you remember, we drove these friends a little crazy in 3 months during the election period. That's when I said; "I'm going to drive them crazy in 5 years, crazy." Like it's almost time to go crazy, the one who shakes me every day, insults me every day… But the wrong word belongs to the owner. My mother always tells me; 'May Allah reunite you with good people.' Ah, here are my good people. The most beautiful people in the world. Every person in my country is my beautiful person. A handful of people spoke badly; I do not care. I refer them to Allah. I prayed for them even on the Night of Power, so that God would give them wisdom.
SUNDAY: "Sacrifice to the beautiful hearts of children"
Addressing citizens on the bus in Pazar district, İmamoğlu invited Alper Taş, a member of the Prime Minister of the SOL party, who was the candidate for mayor of CHP Beyoğlu on March 31, 2019, when he saw them in the crowd. Stating that they struggled with Taş in local elections, İmamoğlu said, "It didn't happen in Beyoğlu, but it happened in Istanbul. It was with everyone's help. I am also grateful for his contribution, thank you. Not forgetting the children who showed him love from the crowd, İmamoğlu said, "Sacrifice to your beautiful heart. There are these children, these children: These children are so strong, so honest, so loving without prejudice… They have no prejudice that divides and polarizes people in society right now. And these children will destroy all the bad feelings that keep this nation apart. These guys are going to wash it down. Let's just give these kids, these young people some solid ground. We are on its eve now. Not long now. There's at least a year left," he said.
"IT IS VALID NOT ONE PERSON SEES IT, MAGNIFICENT EPOPET SHOWN BY 85 MILLION PEOPLE"
Saying, "There are a lot of government officials who denounce those who do their duty well," İmamoğlu said, "I wake up every day in the morning, what will they say to Ekrem İmamoğlu today? Sometimes I say, 'My God, who would have thought of that?' By Allah, they come to mind. I am surprised. Very creative people. And – just between us – they are jealous. So, someone shouldn't do their job well; From top to bottom, from right to left, from Bursa, Balıkesir, Istanbul, the deputy, the minister, all… Do you know why? Whoever insults Ekrem too much wears shoulder pads. But can I say something? The epaulette that 85 million people see is valuable, not what one person sees. Nothing happens from the epaulette that a person sees. People will see it, friends. Do you know why they are jealous? We appreciate the spirit of our nation. We appreciate the spirit of children. We value the spirit of young people. We say: "We will produce with them". We treat everyone the same, regardless of their political views.
ARDEŞEN: "I'm happy to be a child of this land"
İmamoğlu also addressed a cheering crowd in Ardeşen. Saying, "I am happy to be with you, I am happy to be a child of these lands", İmamoğlu expressed his feelings, "I said it on Sunday, and I will say it here too. I will say it in Fındıklı after you, in Arhavi and Hopa. I will say it anywhere. Because the person who exists with his essence, the person who respects him, respects everyone. I am a person who is true to himself , but who cares for and respects everyone. I always say; My God, don't embarrass me for my family, don't embarrass me for this beautiful land where you were born, for the people of the Black Sea, of course, for my nation, my country, my flag. Do not embarrass your ancestors and your grandfathers, who founded this country, and do not embarrass Atatürk.
"I'M RETURNING TO ISTANBUL AS AN ACCOMPANIMENT"
Saying "I describe not being embarrassed for you like that", said İmamoğlu, "I did not do justice to people living in Istanbul. I did not offend anyone. God is witness that this brother of yours, this son yours, this comrade of yours will not cheat anyone. The concept of right, law and justice is our principle. It is both a human and conscience principle, a principle of belief and an element of coexistence for all of us. Emphasizing that people need managers who show freedom, intelligence and science, not imprisonment for their citizens, İmamoğlu said: "We will get there. We did it once in Istanbul." They said, "You did wrong. Is that true? Kartmerli won the second, the second. You won't hurt that citizen. If you make a mistake, the citizen will show you the truth. It won't never hurt. So what are we going to do? A year later, we'll show someone the truth together," he said. lare. Expressing that he had promised the provincial presidents of CHP and IYI Party his visit to Rize two years ago, İmamoğlu said, "I am here for him. But I'm glad I came. Let me tell you something? I come back to Istanbul like a stapler, I come back like a stapler. I will work more in Istanbul. I will work 24/7. I hope I will be one of your citizens that you will always be proud of," he said. İmamoğlu left after his speech. The bus carrying İmamoğlu was able to leave the neighborhood with a delay due to the demonstrations of love along the way.
PRESIDENT ÇERVATOĞLU WELCOMED İMAMOĞLU IN THE DOORLESS OFFICE ROOM
İmamoğlu's last stop in Rize was Fındıklı district. Meeting great interest in Fındıklı, İmamoğlu visited the district mayor, Ercüment Şahin Çervatoğlu, with his wife Dilek Kaya İmamoğlu, in his office before his speech. Welcoming the Imamoglu couple to their room, which has no door and whose walls are decorated with the handprints of children from Fındıklı, Çervatoğlu said: "Those sincere beautiful feelings you showed to the children remain as handprints on our walls. It was a trustee's room. Even in a very small municipality, they had a break room in the back. We didn't want it, we built a work desk. As we removed the door at this time, there was a void. We closed it. We completed it on April 19, 2019. On April 23, 2019, we created this corner with our children because of a transparent and clean municipality, a clean and simple municipality, and the children's hands are always on our backs. We try to follow your path, on the same path that we followed with the children," he said.
"I READ IN A WONDERFUL SCHOOL: THE NAME IS THE BLACK SEA"
Saying, "We follow Fındıklı Municipality carefully," İmamoğlu said, "He is experiencing difficulties and is a fellow traveler who gives very special examples here on behalf of the democratic municipality. Sometimes the lights born from the neighborhoods apparently little ones become a beacon of hope for the big centers. In this regard, I follow the practices of our president in Fındıklı with this eye. And he is doing a really special job. I wish you success. We make sure to stand alongside each commune. Our municipality of Fındıklı will be part of it. I hope that we will achieve very successful projects together. In his speech to a cheering crowd in front of the municipality of Fındıklı, İmamoğlu said: "I studied in a beautiful school: its name is the Black Sea. There are dozens of cultures, religions and traditions in this geography. But there are also very brave and democratic Black Sea people who love people. s. I made a claim in Istanbul. I said; "I will be Istanbul's most democratic mayor ever." Now I will make another claim. I will be the most democratic Black Sea citizen ever.
"WE WILL WALK AGAINST THE WAY"
Highlighting the importance of the common table established by the 6 party leaders, İmamoğlu said:
"Because the subject is the homeland. Vatansa, the rest is just details. So, on this road with this point of view, is it only the work of political parties? Not. It is the business of the people. We have to do it as a nation. Each individual, each citizen must ask themselves the question "what should I do? We must succeed together. Listen, we have no competition. There is no rival against us. Our adversary can only be the nation itself. Very clear. Therefore, we will resolutely walk the path. Together, we will walk the path for this country to be crowned with democracy. And we have to do it at the end of this journey, right in the beginning of the second century of the Republic. We will treat it as a nation. We won't win this election against anyone. We will also win this election for those who vote for the party in power today. Because we will give them a good life. We, as patriots, who love our nation, must achieve this. We will do it. We have no barriers. »
The Rize tour, which İmamoğlu started in Iyidere and ended in Fındıklı, ended as it started, under the intense interest of the citizens. İmamoğlu during his tour of Rize and Artvin; CHP deputies Turan Aydoğan, Ahmet Kaya and Serkan Topal and vice-president of the IMM Assembly group of the IYI party İbrahim Özkan were also accompanied.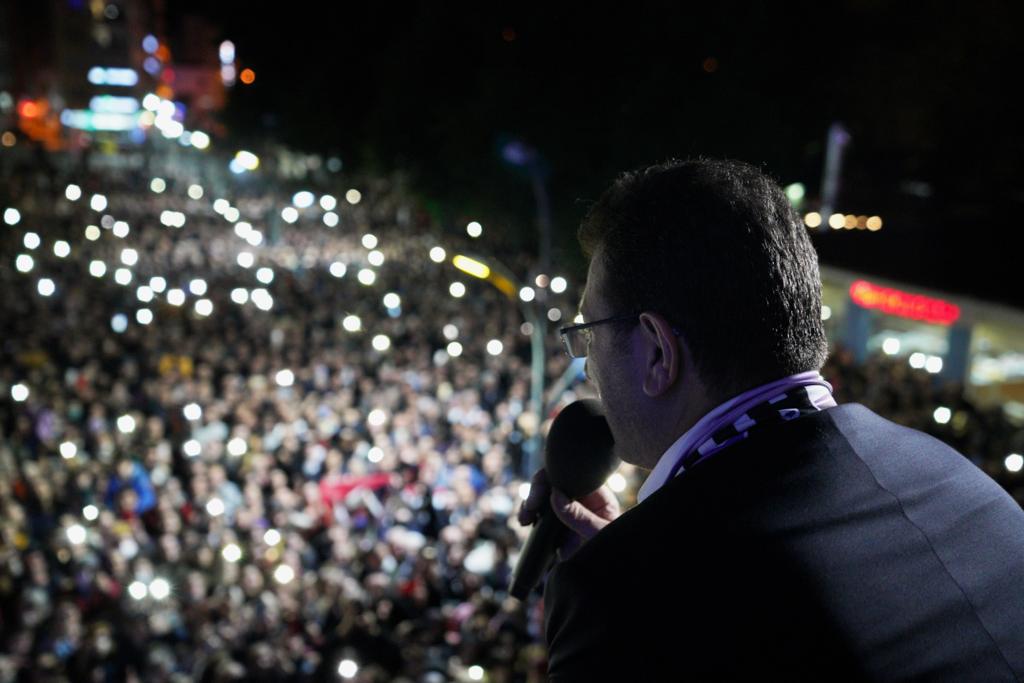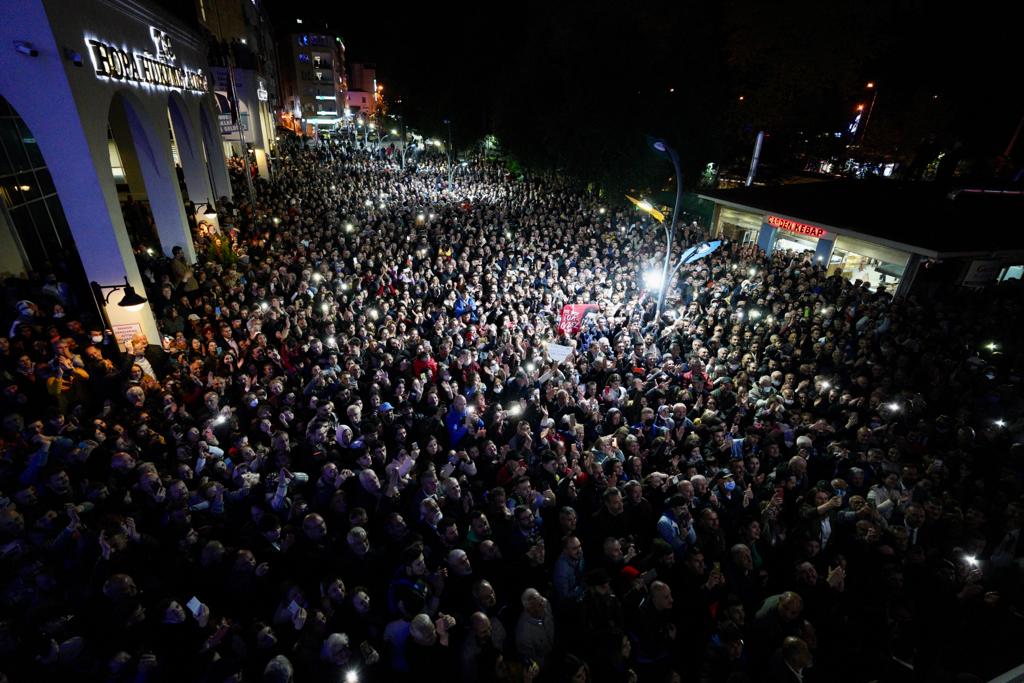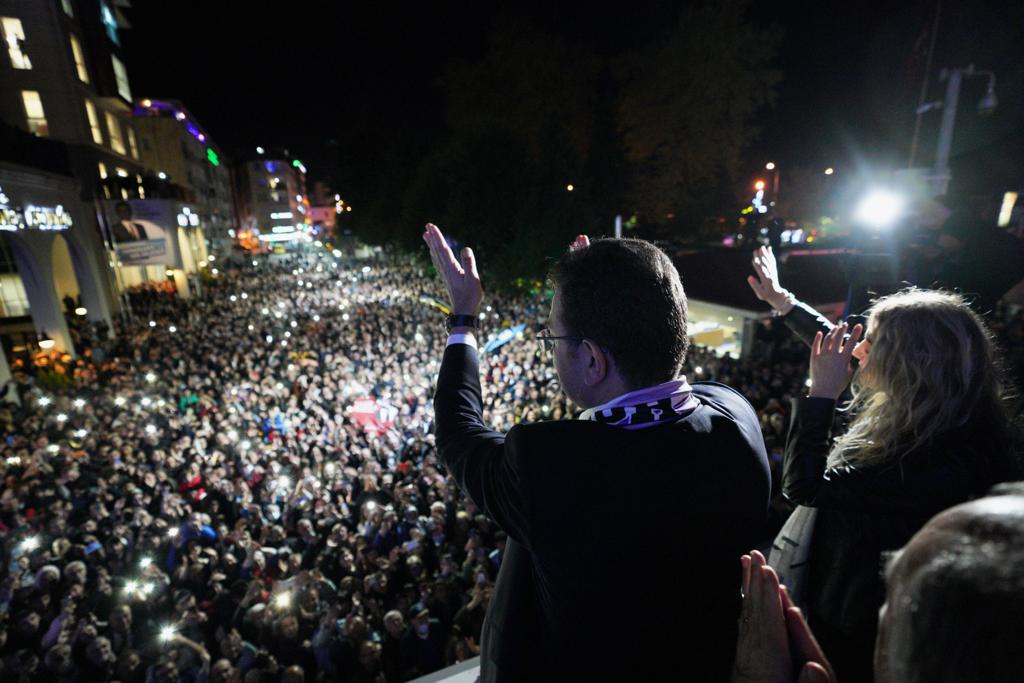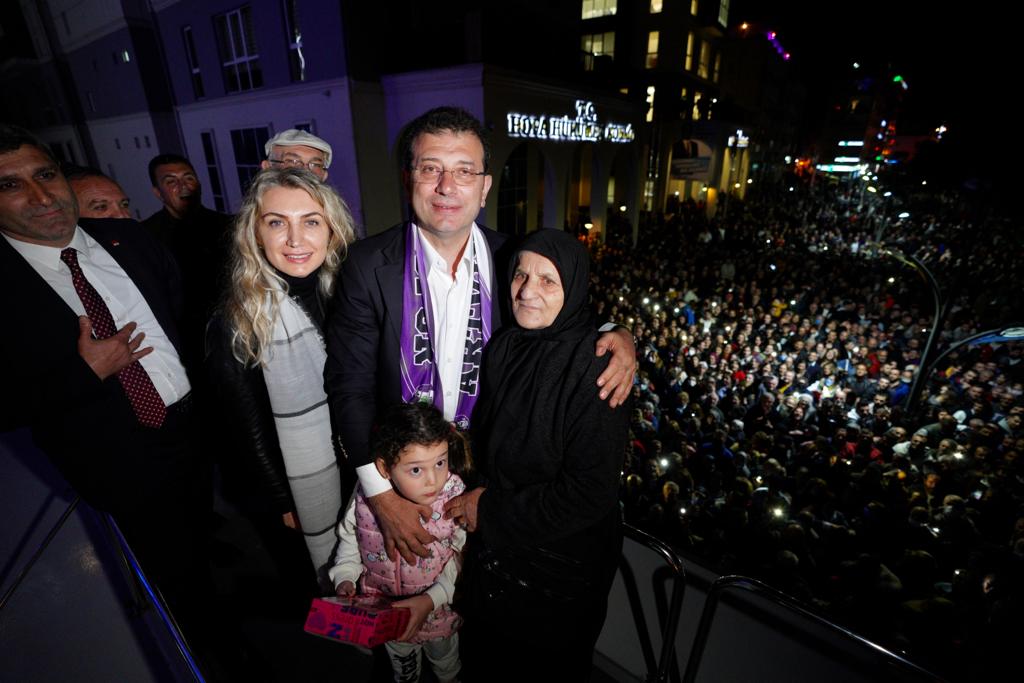 Related News