class="medianet-inline-adv">
In the UEFA Champions League semi-final, Real Madrid beat Manchester City with 3 goals in the dying minutes, and the echoes of Liverpool's opponent in the final continue.
IT ALL HAPPENED SUDDENLY
The first half of the game played at the Santiago Bernabeu in the rematch of the match, which ended 4-3 in England, ended in a 0-0 draw. Holding the scoring advantage from the first game, Manchester City secured the lead with a 73rd-minute goal from Riyad Mahrez and kicked off the countdown to the final.
REAL MADRID ALWAYS DO IT
Real Madrid's historic comeback has begun as Manchester City count the seconds until the final. Rodrygo made it 1-1 in the 90th minute, and Rodrygo, who appeared on the stage again in 90+1, took his team to a 2-1 advantage. Regular time ended with a 2-1 win for Real Madrid and extra time continued.
class="medianet-inline-adv">
Karim Benzema, who has had an incredible season with Real Madrid this term, took the ball in the penalty he won in 95 and put goalkeeper Ederson in the far corner to determine both the score of the game and the name of the final.
No more goals were scored in the remaining part of extra time, and Real Madrid, who lost the first game 4-3 and led 1-0 in the 90th minute of the second game, won the rematch 3- 1 and the total score. 6-5, making their mark in the final.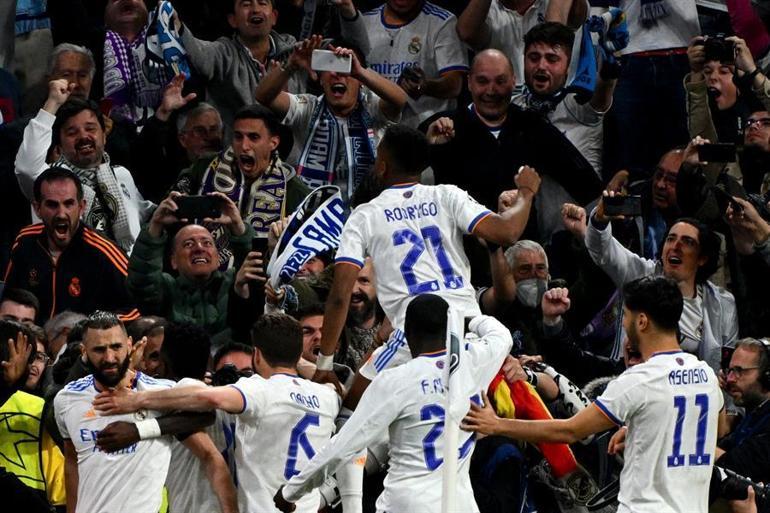 CARLO ANCELOTTI: THIS STATE HAS A MAGIC
Real Madrid manager Carlo Ancelotti in his statement after the historic Manchester City fight said the club had magic and said he believed the stadium was magic.
No one believed it. Few people believed that we would succeed. But even a small spark is enough for us at this stage. This city has a magic. I am very happy to coach this team. I can't say that we are used to such situations, but the situation we experienced against Manchester City was also in the PSG and Chelesa games. If you ask how it happened, it's the history of this club that has helped us not to give up when we look like we've been knocked out. Real Madrid has a magic that no other team has. We had a good match against a strong opponent. We had difficult times. Manchester City controlled the game but once we leveled the overall score we had a psychological advantage in extra time. I knew things would change in extra time when Manchester City lost the lead. Liverpool are great competitors. It will be a great final. We are happy to be there. We will play against another strong team in Paris. I know and respect Jürgen Klopp. It will be a fantastic final.
Carlo Ancelotti
PEP GUARDIOLA: WE SURVIVED
Manchester City manager Pep Guardiola, despite his great disappointment after the match, entered the pitch and congratulated all his players one by one. "It's very difficult to accept what happened tonight," the Spanish coach said in a press release.
class="medianet-inline-adv">
After scoring, we played better. We found our own game, the players felt comfortable. Real Madrid charged in the last 10 minutes and we suffered. They sent many players into the penalty area and scored two goals. We didn't play our best game, but that's okay because we made it to the Champions League semi-finals. Football players may have felt the pressure. Football is an unpredictable game. We have to accept this. We have 4 games ahead of us, you have to think about it.
Pep Guardiola
MESSAGE FROM MESSI TO AGUERO
Sergio Agüero, who retired from his active football career in recent months due to heart disease, shared the message Lionel Messi sent him on the live show where he chatted with former teammate Carlos Tevez.
"After Real Madrid's 3rd goal, Messi texted me. 'Is it real or is it a joke? It's impossible, it's impossible!' mentioned." used expressions.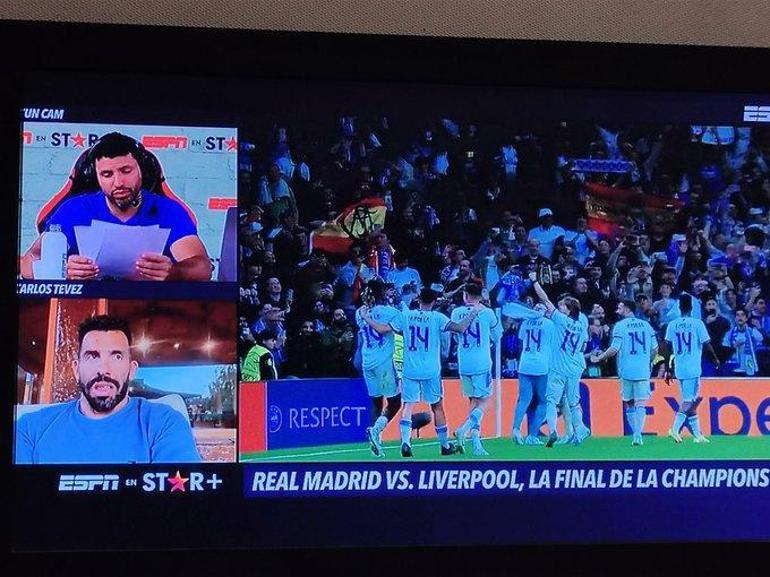 THEY WERE CHAMPIONSHIPS IN MANCHESTER CITY
Sergio Aguero and Carlos Tevez played together for Manchester City at one point in their careers. The Argentinian duo were teammates in the unforgettable Premier League title in 2012.
class="medianet-inline-adv">
THE HISTORY OF THE 2012 PREMIER LEAGUE CHAMPIONSHIP
Manchester City, which entered the English Premier League last week with 86 points, miraculously reached the championship. Lost 2-1 in the 90th minute against QPR, Manchester City became champions for the first time since 1968 with two goals in extra time.
Manchester City were dead and risen against Queens Park Rangers, who were struggling to stay in the league. In the 39th minute of the match, Manchester City took a 1-0 lead thanks to Zabaleta's goal. While the 1-0 scoreline was enough for Manchester City to win the league, they went to the locker room with that scoreline.
In the second half, Quens Park Rangers equalized with Cissé's goal in 48. In 55, guest team Joey Barton was sent off with a red card after kicking Sergio Aguero. Despite Manchester City's hopes as their opponent remained at 10, guest side Quens Park Rangers got the goal. Mackie turned the score 2-1 in favor of Queens Park Rangers with a fine header in 66.
class="medianet-inline-adv">
In 90+2, Eden Dzeko, who came on later, made it 2-2 with a headshot and gave Manchester City hope. As the minutes showed 90+4, Aguero appeared on stage. The Argentine player took the team 3-2 in front with the goal he scored in last position and took the victory. After this victory, Manchester City reached the league championship after 44 years.
Queens Park Rangers lost 3-2 to Manchester City, but Rangers were relegated after Stoke City drew 2-2 with Bolton Wanderers. Bolton Wanderers were the last team to be relegated in England.
In the other top game, Manchester United beat Sunderland 1-0 with Wayne Rooney's away goal in the 20th minute, but despite rising to 89 with the win, they stayed. in second place after Manchester City's victory.
class="medianet-inline-adv">
THE CUSE OF AFRICAN SHAMANS?
After Pep Guardiola failed on this issue, what happened with Yaya Toure and the words of the player's manager came to mind.
Yaya Toure's manager Seluk asked African shamans to curse Guardiola saying: "I think a lot of African shamans won't let him win the Champions League because of what Pep Guardiola did to Toure. Time tell us if I'm right." had come out in the form. After Pep Guardiola's big disappointment last night, these words have become the order of the day on social media.
In an interview with France Football magazine right after leaving Manchester City in 2018, Yaya Toure criticized Guardiola with harsh words and even hinted at racism.
I was trying to figure it out, even getting information about my stats from other coaches. When I realized that I was equal or even better than regular players, younger than me, both in training and in matches, I realized that it was not a physical problem, I did not don't know why, but I have feelings of jealousy. Guardiola considers me his rival. For me, he did everything to ruin my last season. He was cruel to me. Do you think he could do to Andres Iniesta what he did to me? At this point, I reluctantly think the problem may be related to my skin color. Because I'm not the first. Other Barcelona players also wondered about this: we Africans are not always treated the same by some people. I watch the problems Pep often has with African players wherever he goes, and I ask myself these questions. On top of all that, Pep likes to dominate and wants football players who commit to him and kiss his hand. I don't like that kind of relationship. I respect my coach, but I am not his property. Guardiola is a very smart person, it's hard to pin him down. He will never admit that he doesn't like African players. But if he ever chooses a starting XI with 5 African players, I will send him a cake.
Yaya Toure