class="medianet-inline-adv">
National Defense Minister Hulusi Akar visited the Mediterranean Regional Command together with Chief of General Staff Yaşar Güler and Commander of Naval Forces Admiral Adnan Özbal. Saluting the ceremonial unit upon arrival at the command, Minister Akar, after the briefing he received on the activities, proceeded to the port area with the commanders accompanying him. Speaking at the opening ceremony of the new wharf and pier of the Mediterranean Region Command, which began with a moment of silence and the singing of the national anthem, Minister Akar said that the Command of naval forces Çaka Bey, Barbaros Hayrettin Pasha, Gazi Hasan Pasha, Kılıç Ali Pasha, Mezamorta Hüseyin Pasha, Oruç Reis, Piri He stated that with the inspiration he received from Reis and Turgut Reis, he continues to work from day by day in a more effective, dissuasive and respectable way.
class="medianet-inline-adv">
"Our Turkish Naval Forces continue to perform their assigned functions with great success in order to protect our rights and interests in our seas," Minister Akar said, adding that the Naval Forces Command has fulfilled its duty to represent the power and strength of the noble nation with great honor by flying the Turkish flag on all seas. Minister Akar said: "Our frigate Gökçeada, serving in the Turkish Naval Task Force, detected a boat with immigrants on it, off Misrata, Libya. The necessary interventions were made immediately by our health staff to 17 semi-conscious irregular migrants. The rescued irregular migrants were handed over to the Libyan authorities thanks to the established coordination. These and similar activities demonstrate the humanitarian contributions of TAF to peace, stability and tranquility in various geographical areas.
COUNTER-TERRORISM
Minister Akar also referred to counter-terrorism operations and said that the Turkish Armed Forces continue their fight against terrorism at an increasing pace and said, "Our Claw-Lock operation is continuing successfully as planned. To date, work has been done in other areas. For all of this to be completed, we need to connect this lock and conclude it successfully. In difficult weather and terrain conditions, Mehmetçik penetrates the hideouts of the terrorists and they are destroyed on the heads of the villains. So far, 73 terrorists have been neutralized. 102 caves and shelters belonging to terrorists were destroyed, 524 homemade explosives were destroyed. 10 of our heroic comrades were martyred in the operation. We have asked and continue to ask for the blood of our martyrs, veterans and the tears of their precious families. The breath of Mehmetçi is on the backs of terrorists. Terrorists have severe fear, anxiety and panic. There are signs of the terrorist organization collapsing. We are determined and determined to save our noble nation from this terrorist scourge that has been eating away at us for 40 years. Our fight will continue with determination until the last terrorist is neutralized. Emphasizing that the only target of the Turkish Armed Forces in their operations are terrorists, Minister Akar said: "We have no other target than terrorists. I would also like to emphasize once again that the Kurds, with whom we have shared this geography, this bread and this water for thousands of years, are our brothers. The clearest indication of this is our heroes who sacrificed their lives for our glorious flag and ensign and lay down together in our martyrdoms. In our activities, we are extremely respectful of the borders, sovereignty, independence and territorial integrity of our friend, neighbor and brother Iraq.
class="medianet-inline-adv">
THEY DON'T SEE THE FACTS
Referring to the measures taken regarding border security, Minister Akar said, "Mehmetçik continues his struggle day and night with great sacrifice and heroism with the understanding that 'the border is honour'". Describing border security as a national issue, Minister Akar said, "Despite all the explanations and briefings, unfortunately some of them insist on not understanding, not listening, not seeing or hearing the truth. Border protection is a national issue. This should be understood by everyone. Mehmetçik uses the opportunities offered to him at the borders in the most effective way. He successfully does what he must do. The Mehmetci's only expectation is to show respect for heroic and self-sacrificing activities and efforts at the borders. This is our only request. Fake news, fake videos and disinformation try to create a different perception. Those with common sense must be careful, vigilant and able to see the truth against them. Minister Akar declared: "2 thousand 65 people have been arrested and 132 thousand 473 people have been impeded since the beginning of the year at our borders", and underlined that the most intense measures in the history of the Republic have been taken in terms of the number of soldiers, infrastructure, equipment and equipment. Criticizing comments on border measures in some media outlets, Minister Akar said, "Some people talk about issues from 20 to 30 years ago without knowing the facts. It's wrong. Very advanced technologies are used at our borders. We express our gratitude to our nation and state for providing these great advanced opportunities. »
class="medianet-inline-adv">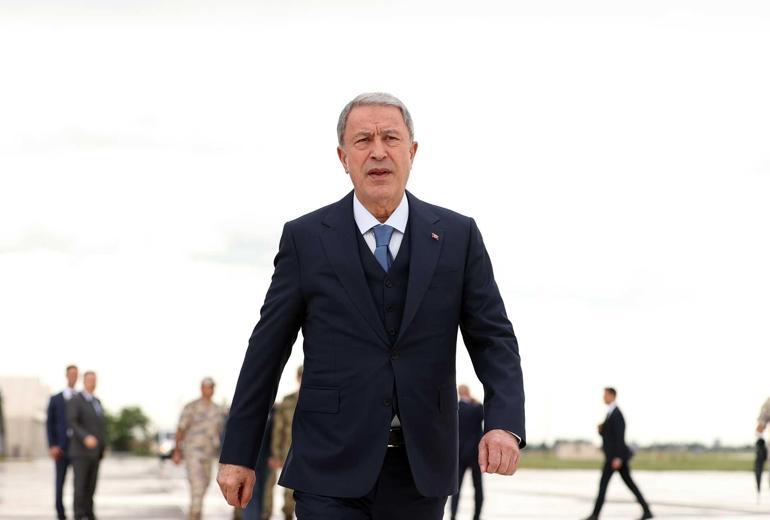 SHOULD NOT BE A SUBJECT OF POLITICAL DISCUSSION
Minister Akar said more than one million Syrians have lost their lives in the ongoing civil war in Syria since March 2011 and more than 7 million people have left their homes and lands. Noting that the people in question had to migrate to neighboring countries, Minister Akar made the following statements: "Some of them came to Turkey to escape persecution from the regime and terrorist organizations and to save their lives. They will return when they are sure of their safety. They have already started to come back. There are about 5 million Syrians in the region of Syria which has been cleared of terrorism and terrorists by the Turkish Armed Forces. There were around 4 million Syrians in Turkey before. With recent returns, around 3 million 700,000 Syrians are in Turkey. All efforts are made by our country to create the necessary conditions for the safe, voluntary and dignified return of asylum seekers in accordance with UN criteria. It is a human condition. It shouldn't be a topic of political discussion. Throughout history, Turkey has always stood with the oppressed and the victims. Right now, Turkey is doing what is right for itself. Within the framework of our national and moral values, we have fulfilled and continue to fulfill our humanitarian, conscientious and legal duties towards these people in coordination with international institutions and organizations.
class="medianet-inline-adv">
WE DO NOT ALLOW ANY DEFECTS
Drawing attention to the problems in Greece, the Aegean Sea, the Mediterranean and Cyprus, Minister Akar said: "We are in favor of international law and dialogue in all our activities. We want the solution of all our problems by peaceful ways and methods. Despite this, unfortunately, Greece continues its expansionist and aggressive policy with its provocative actions and rhetoric. Drawing attention to Greece's inhuman behavior towards asylum seekers, Minister Akar said: "Unfortunately, the world has unfortunately ignored all kinds of disgraces, as well as the cruelty and inhuman treatment that Greece inflicts on innocent people for years. However, Greece was caught in the act with the latest FRONTEX incident and eventually the European Union began to see the events, albeit to a limited extent. Caught in the act, Greece produces artificial agendas to distract and obscure the FRONTEX incident. Greece also uses certain international exercises, including the Tiger Meet, for this purpose. During Exercise Tiger Meet, we ordered our Air Force to withdraw from the exercise due to their selfish exploitation of some issues in the FIR, non-military status islands and recovery areas personnel, and its efforts to use the exercise against Turkey's rights and interests. and interest. Our Air Force pulled out of the exercise. We are in favor of peace, good neighborly relations and international law. We are in favor of solving all problems through negotiation. However, everyone should know that we will not allow any fait accompli and that we will not violate our rights. We are determined, determined and able to protect our rights and our law. »
class="medianet-inline-adv">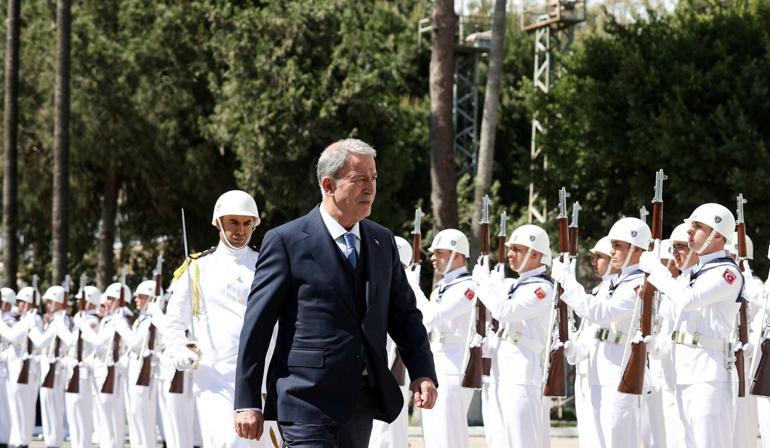 COMMANDER OF THE NAVAL ARO. ADNAN ÖZBAL
Admiral Adnan Özbal, Commander of the Naval Forces, also said in his speech at the ceremony that the old piers built in 1963 served the needs of the region for 57 years. Admiral Özbal, drawing attention to the activities carried out by the Naval Forces Command to ensure maritime security and protect areas of maritime jurisdiction, said: "It is also imperative to increase opportunities for maintenance, repair and logistical support needed for our ships in the Eastern Mediterranean. ribs. From this point of view, in addition to the Aksaz naval base, the port of Mersin will provide the most important base opportunity in the region. Thanks to the new opportunities, it is planned to strengthen our permanent presence in the Eastern Mediterranean with the ships that will be permanently deployed in Mersin in the coming period.
AN IMPORTANT LOGISTIC BASE
The construction of the new quays and jetties of the Mediterranean Regional Command was completed in 546 days with national resources. As part of the project, alongside the intensification of activities in the Eastern Mediterranean, quays and jetties have been rebuilt to serve the floating troops. The infrastructure of the new quays and piers, which has been adapted to the use of all floating elements, has been renewed to serve ships and submarines. The new quays and piers, which have been opened, should constitute an important logistics base in the Eastern Mediterranean.