Mehmet CINAR/ANTALYA, (DHA)
Doctors reacted to the demand for a report for May 5-6, by those who wanted to extend the Ramadan holiday to 9 days. In the part of a doctor, "So you came to ask for a report of 2 days in order to bring the leave to 9 days. And from someone who stood watch for 4 days during the holidays", he said. he says.
class="medianet-inline-adv">
Eid al-Fitr was celebrated this year from May 1 to 4. Many civil servants or private sector employees, who wanted to extend the leave, which offered a leave of 5 days with Saturday April 30, to 9 days including Thursday and Friday May 5-6, by obtaining a report, delivered to the emergency departments of health centers and hospitals. The doctors reacted to those who demanded a report to extend the vacation to 9 days even if they were not sick. While many doctors shared their request to report in this way on social media, they also reported the situation to chief medical officers and senior authorities at the hospitals they worked for.
A doctor who was assigned to Kocaeli while on duty in Antalya and was on maternity leave, said a friend of the person he knew called him and asked for a report saying, "I am a friend of X person, I was in Antalya, I was going to report", and told me that he was assigned to Kocaeli and was on maternity leave. He told me he was continuing his request in case you tell your friend about it, even if he writes. Another doctor said nearly 200 people, all civil servants, requested a report in one day.
class="medianet-inline-adv">
REPORT ALGORITHM CREATED
A doctor, on the other hand, has created a "report needs algorithm" that shows when a report can be given and when it cannot due to excessive report requests. He said those who have a serious illness that they cannot go to work can go to their doctor, and those who do not have an illness such as a need for permission, marriages, children, etc. , but who still want a report should not consult a doctor.
Doctors on call during the party expressed their reactions on social media. Some of the reactions are:
"So you came to ask for a report of 2 days to increase the vacation to 9 days. And from someone who stood watch for 4 days during the vacation."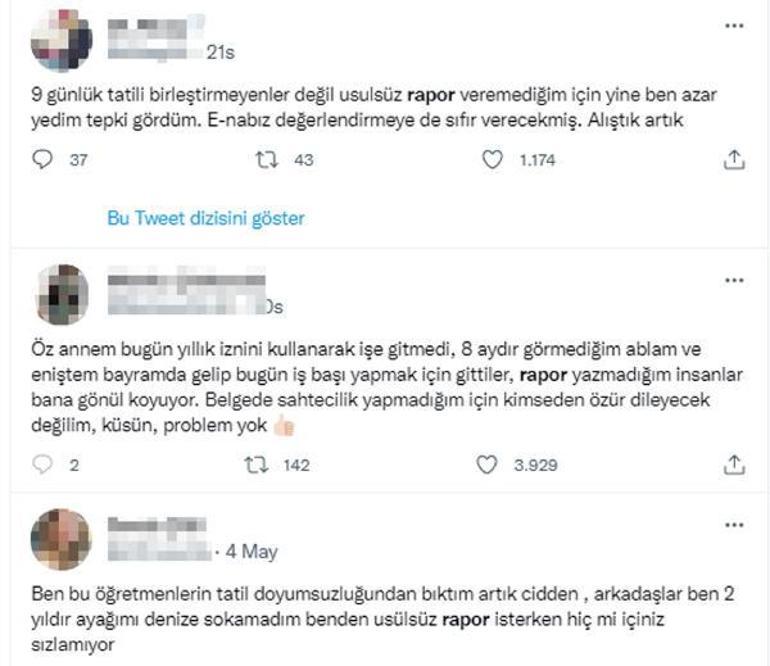 class="medianet-inline-adv">
"We are in the 430th patient, at least 100 of them have come for the report now. Most of the attendees are teachers by profession. Did I report? No. Someone says, 'Why don't you give not the state report?' He would complain. And I ask you, 'Why don't you get a salary from the state and go to work?' Most of the participants are teachers. You know it yourself better than us. "I didn't buy a ticket, teacher, I'm away from my family, there are only 4 hours of class." I I have no words for those who are at work. And yesterday most of the emergencies in the country were like this. That being the case, you are still trying to refute what?"
"The report is not a right, if necessary, the doctor will write it if he sees fit."
"Not those who accumulate the 9 days of vacation, I was scolded and reacted again for not being able to report illegally. E-pulse will also give zero in the evaluation. We are used to it now."
class="medianet-inline-adv">
"My own mum didn't go to work using her annual leave today, my sister and brother-in-law, who I haven't seen for 8 months, came and went to start work today. I'm not going to apologize to anyone for not tampering with the document, you're offended, it's okay."
"I'm really fed up with the insatiability of these teachers' holidays, friends, it's been 2 years since I've been able to set foot in the sea, it makes you feel sorry for you when you ask me for an illegal report. "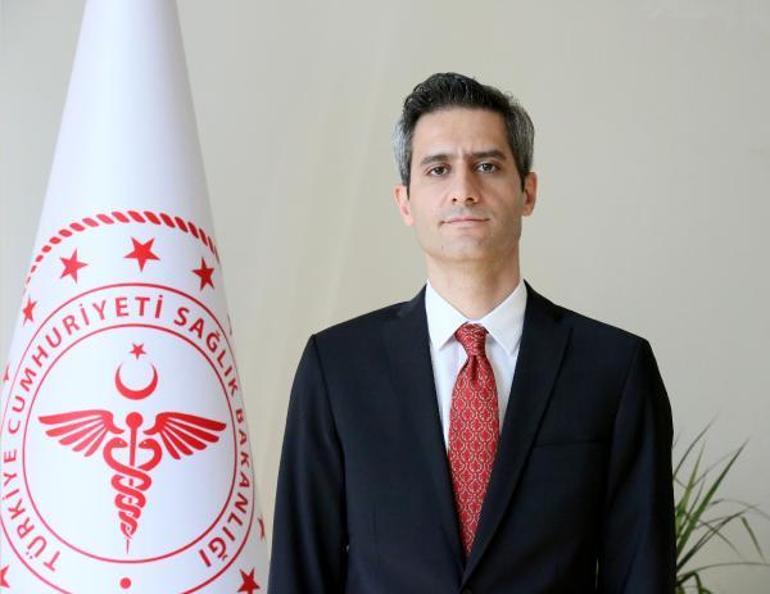 "THE DOCTOR CAN GIVE A REPORT IF NECESSARY"
Provincial Health Director of Antalya Opr. Dr. İsmail Başıbuyuk said that when it says "We want a report", the doctor can assess and report if he has any disease and demands a report. Op. Dr. Başıbuyuk said: "Otherwise he shouldn't. If he did, it would be illegal, of course. But I don't think a doctor can take much initiative at this stage. Because when the institutions respond to us and say: 'My staff made a report when there was no need for a report', we send this report to the referring hospital. Then their head hurts. From the point of view of the person requesting the report, if the doctor takes a report and says, "It was illegally reported from me like this and that, the doctor sends this report to us, and when we write this report to the person's institution, the institution has the right to investigate His own institution has the right to punish of this report, he is not suitable", and an investigation can be opened against the donor.