class="medianet-inline-adv">
In Çatalzeytin district of Kastamonu, the water level rose on the Akçay stream due to melting snow and torrential rains immediately afterwards. 9 bridges over the Akçay stream were destroyed by rising flood waters. With the demolition of the bridges, transport to 26 villages cannot be assured.
In addition, due to heavy rains, the level of the Akçay stream, which connects the provinces of Kastamonu and Sinop, has increased. With the rising flood waters, the bridge over the Akçay stream was closed to transport.
On the other hand, the road to the village of Çatak was submerged as the water level rose. Work could not start because the water level is still high in the area.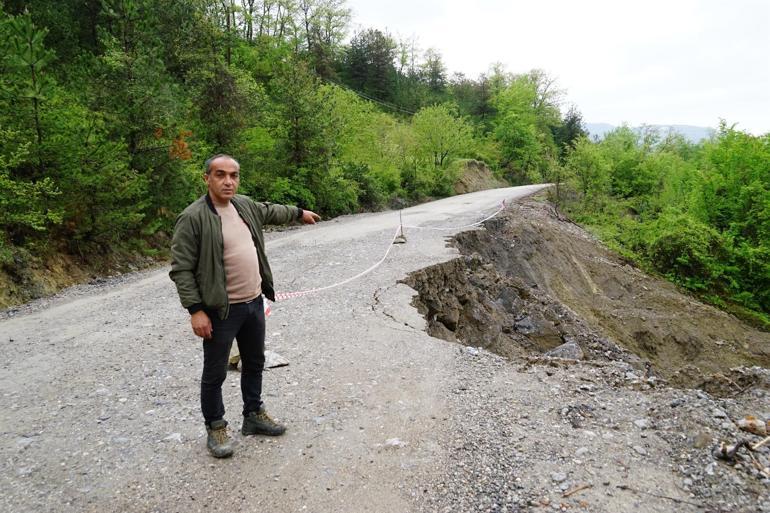 class="medianet-inline-adv">
Due to the soil being eroded by the flood waters, houses along the Akçay stream were evacuated and animals such as geese and chickens in a barn were caught in the flood waters. In addition, 12 cattle in the barn could hardly be saved from the flood by their owners.
"I WATCH NIGHT AND DAY, I'M AFRAID THAT MY ANIMALS ARE LOCATED"
Ayşe Demirkıran said she was on duty day and night due to the flood and she was afraid that the animals in the barn would be flooded. "Let them find me a place so that I can get out of here. Let them show me a place and I'll save my animals. I'm afraid my animals will be flooded. Day and night I think of my animals, I will finally go crazy. Flood approached the edges of the stream to the barn. There were almost 10 meters between us. We have 12 cattle. During the last flood, my geese, my chickens and my vehicle in front of the barn were all flooded. I am very afraid that my animals will be flooded, I barely saved my animals during the last flood. That's why I stand guard here day and night. I'm waiting for this place day and night, I'm going to go crazy because my animals are going to flood. My straw was flooded, I bought straw," he said.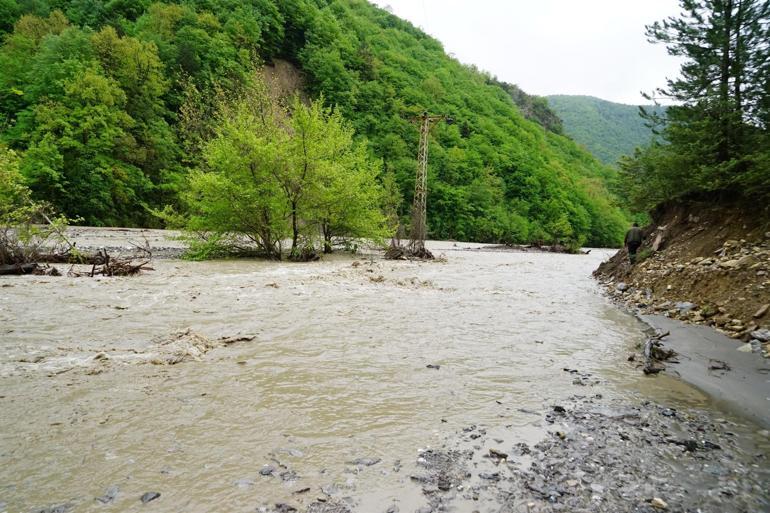 class="medianet-inline-adv">
"9 BRIDGES DESTROYED, IMPOSSIBLE TO ACCESS 26 VILLAGES"
Hikmet Aydın, who said that the torrential rains were effective in the region for 3-4 days and there was a catastrophic flood, said: "We again suffered a major catastrophic flood, especially due to the overnight rains. The road we are on now is the road of our villages connecting 26 villages. Our weekly market was established yesterday in our neighborhood. It was a day when our villagers supported themselves. But no one could go to their village market in the district center because of the flood. Our roads are closed, machines cannot operate due to the high water level at the moment. Nine of our bridges, such as Kızılcakaya Bridge and Duran Bridge, were destroyed, and there was a big landslide on the group road inside Paşalı village, which connects 22 villages. After the flood disaster we experienced on August 11, we experienced the biggest flood last night," he said.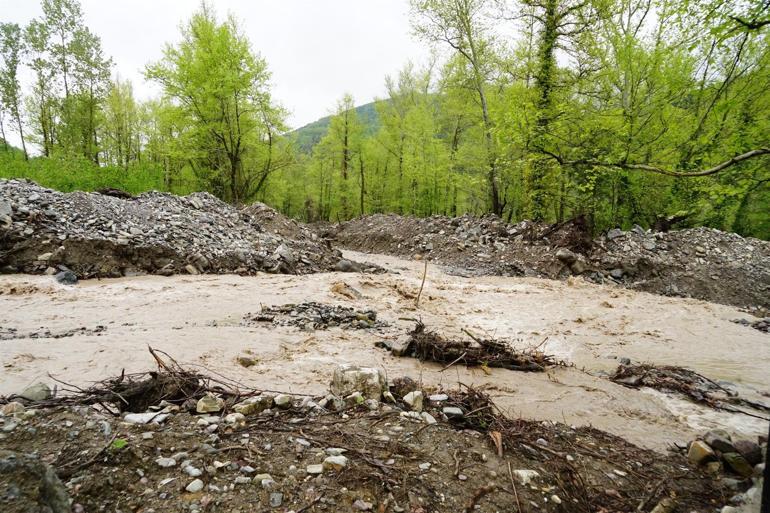 class="medianet-inline-adv">
"THERE IS NO ACCESS TO OUR VILLAGES, BUT YOU CAN GO BY HELICOPTER"
Stating that bridges were destroyed due to flood waters and roads were also flooded, Aydın said, "There are patients such as dialysis and COPD in Karacakaya village, which is completely closed by flood waters and where passage is not permitted. , and in our other villages. These villages are experiencing electricity shortages. Transportation to these villages is currently not available from anywhere. The only means of transport is a helicopter, weather permitting, and if the weather is not suitable, these people are sentenced to death. We don't know if they have food or drink right now. They have no roads, no transportation. We want a solution to these problems as soon as possible. After August 11, this is the fourth disaster we know of. But this is the biggest catastrophe after August 11. Almighty Allah is testing us with disasters. We are now being tested by the flood. During the catastrophic flood experienced yesterday, the police and gendarmerie teams emptied the bridges, vehicles were not allowed to pass. Homes near the creek were evacuated. Again, with rising flood waters, several houses in Çayağzı neighborhood were inundated. Their barns were flooded. Since the bridges were destroyed, there are no more crossings to the villages opposite. We have relatives who live here. We cannot communicate with them at this time," he said.
class="medianet-inline-adv">
"OUR ROADS ARE LOST UNDER FLOODWATER"
Paşalı village chief Ahmet Özcan also said, "The real flood happened on August 11. Our districts such as Bozkurt, İnebolu, Çatalzeytin, Abana and Ayancık have been heavily affected. Our district suffered the most damage during this flood. This is where 5 streams meet on Akçay. If the structure of the earth was not widespread, it would have carried them away. There would be no settlement here. But there's a lot of ground here. As it is a large land, the waters spread. That's why small bridges are left without clothes here. During the last flood, 9 of our bridges were destroyed. 9 bridges collapsed around Akçay and Karacakaya. These bridges connect our 26 villages. It connects 21 villages of Çatalzeytin and 5 villages of Sinop. There was also a village road where the digger worked here now. But it's underwater. This is a road connecting Çatalzeytin to the villages across the bridge and even to the villages of Türkeli. Currently, this road is under flood water. On the other side of this road, a place called the Turkmen Market is established. It is a historical place. As can be seen there it was left under a pile of stones and rubble as it was due to rising flood waters in the creek.